Shawnee Place Poconos favorite kids magician, poconos family entertainment, live show
The Garden of Wonders
Magic Theatre at...

( Click for video below then please read the history)
Awesome family fun in the Pocono's...Kids Show!
Shawnee Place- enjoy magic shows in the poconos by Pocono magician Stephen Christopher
Read about the Garden of Wonders Theatre...
( Stephen performed for hundreds of children & families everyday ... 3 shows a day - 7 days a week during the summer in his original designed theatre )
Shawnee Place was an AWESOME place for families with young children located in the beautiful mountains of the poconos, Pennsylvania.
With fun, play & climbing elements as well as water slides that keep the children engaged and entertained all day... the park is big enough for young children ( 2-12 ) to have a blast ... yet small enough that parents can relax and let the kids have fun, independently, without fear of them getting lost or trampled by teenagers.
Many vacationing families as well as day-camp groups from all over the tri-state area fill the park with smiles and laughter every day during the summer. It truly is a "magical mountain". In the winter Shawnee Mountain is one of the areas most popular ski resorts.
Within the park and included in admission is "The Garden of Wonders Theatre" A wonder-filled place where magic and fun happens ...3 shows a day...7 days a week.
For 20 years magician, Bill Linne had performed the Magic Shows at Shawnee Place as well as instituting their daily "world famous" water-balloon toss contest. Bill has that priceless, unique gift and talent of being able to communicate with and entertain children of all ages.
Stephen met Bill at a local magic shop ( "Hobby Magic" in Marshalls Creek, Pa. ) and for the past six years Stephen Christopher acted as "fill-in" magician when Bill took days off....until...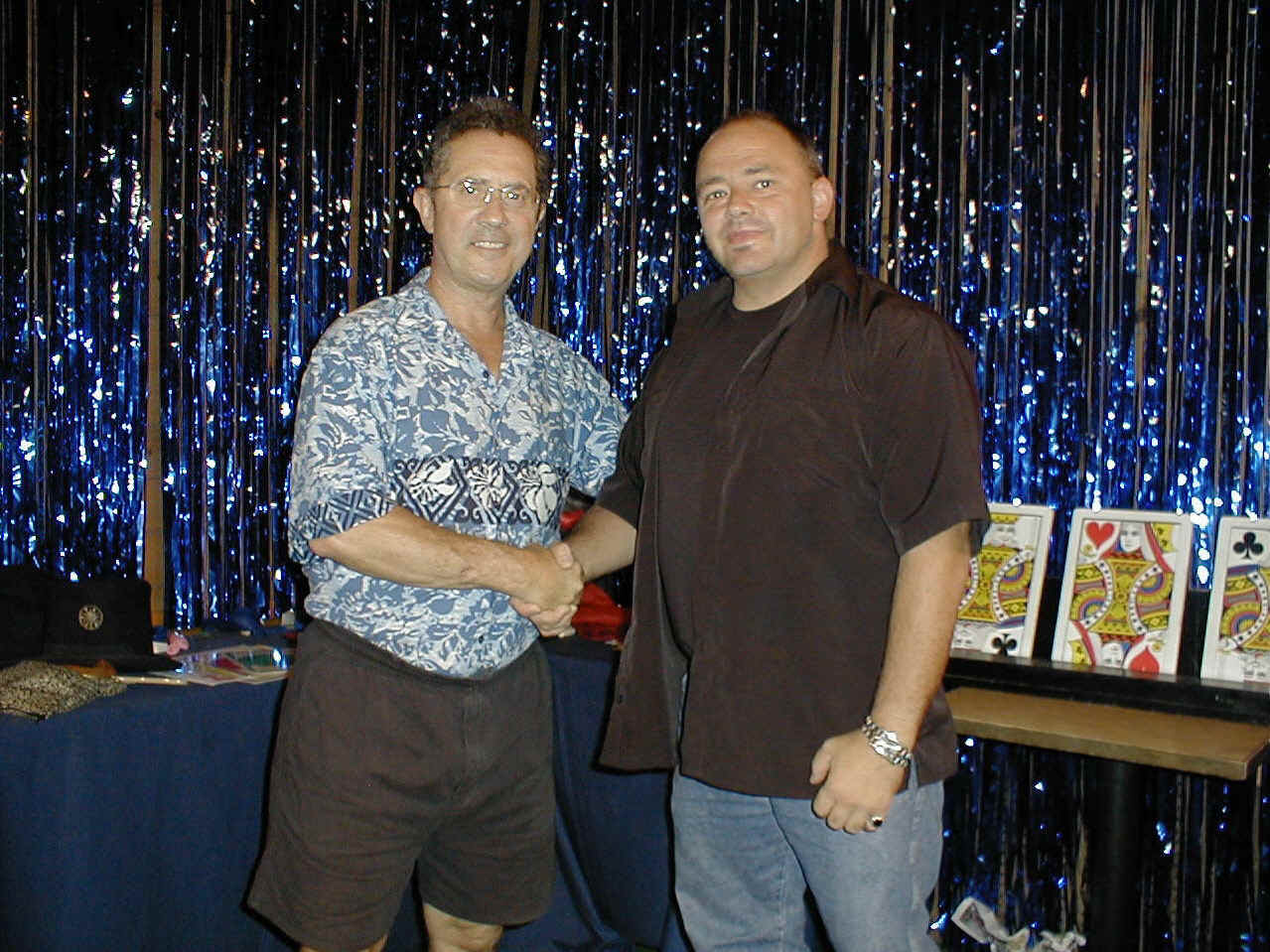 ...2005, Bill relocated and he "passed the wand" to Stephen who is humbled and honored to have the opportunity to continue the tradition of live magic shows at Shawnee Place.
Stephen decided to use the already magical atmosphere of beautiful Shawnee mountain to design the all-new theatre.
Magic Theatre taken to a new level
"The Pocono mountains and especially Shawnee Mt. is a place filled with the wonders of creation ... a place where one can walk and think and dream"
The "Garden of Wonders Theatre" was created and designed with that in mind.
As you enter the theatre you pass through a garden trellis covered in twinkling lights and accented by large, butterflies....and the walls are lined with giant, whimsical daisies.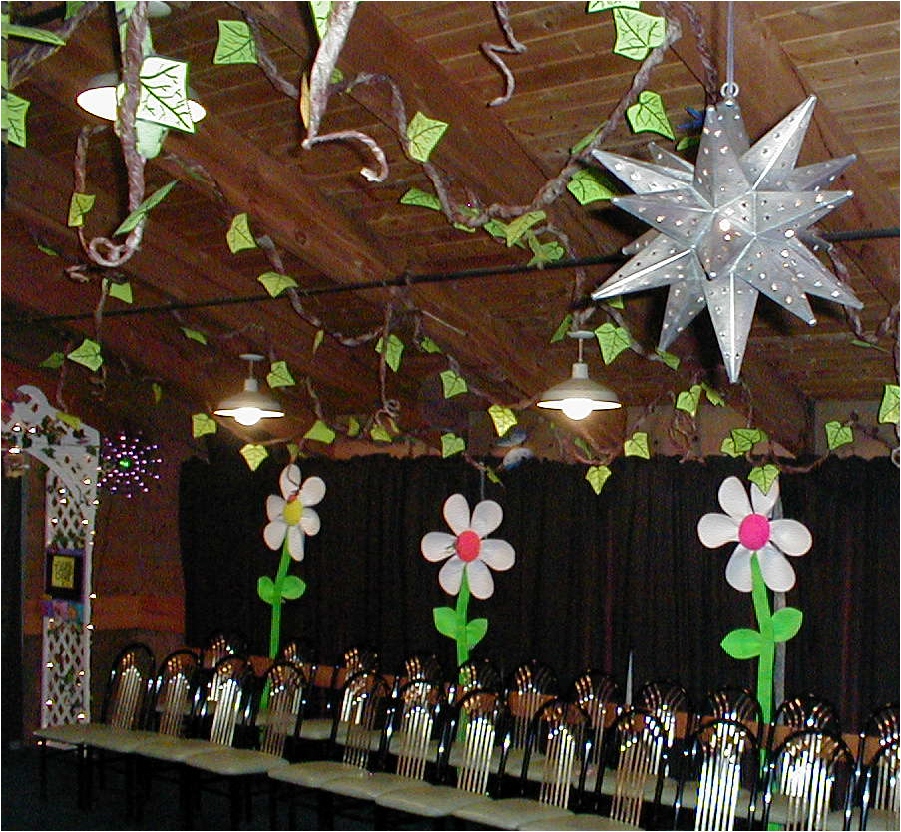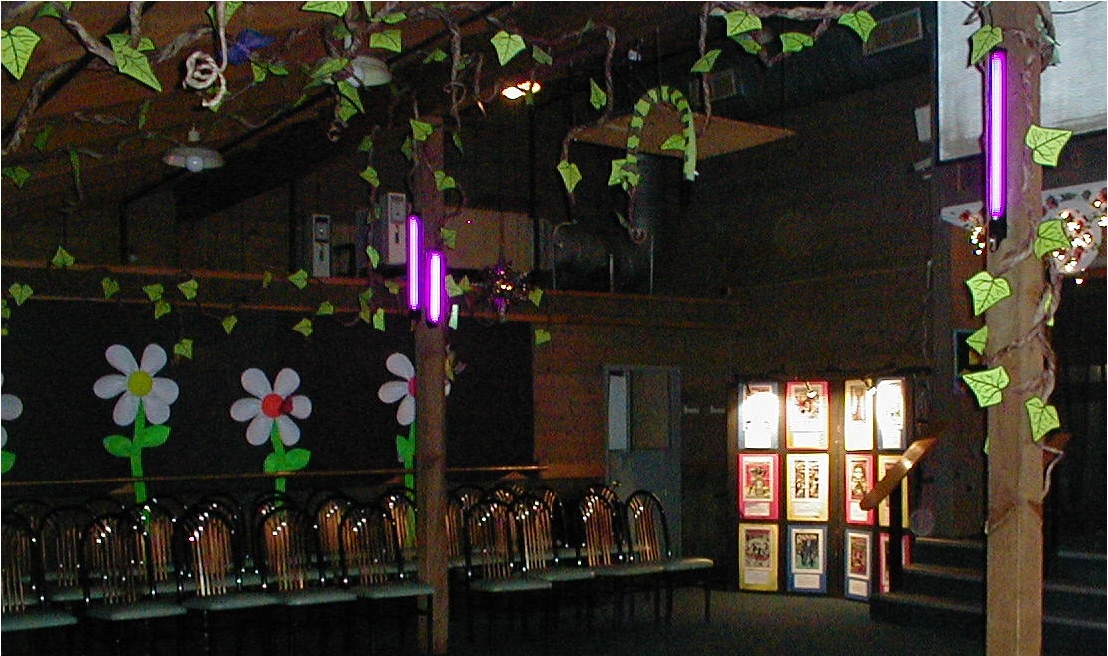 The ceiling is webbed & dripping with a maze of vines and leaves ... leaves that glow under the black lights and come to life and quiver and shake at a wave of the magicians hand to the delight of the children.
There is truly magic in the air and you can sense it.
The stage *backdrop is a beautiful custom piece of art commissioned by Stephen and designed and hand painted by local artist RAVEN.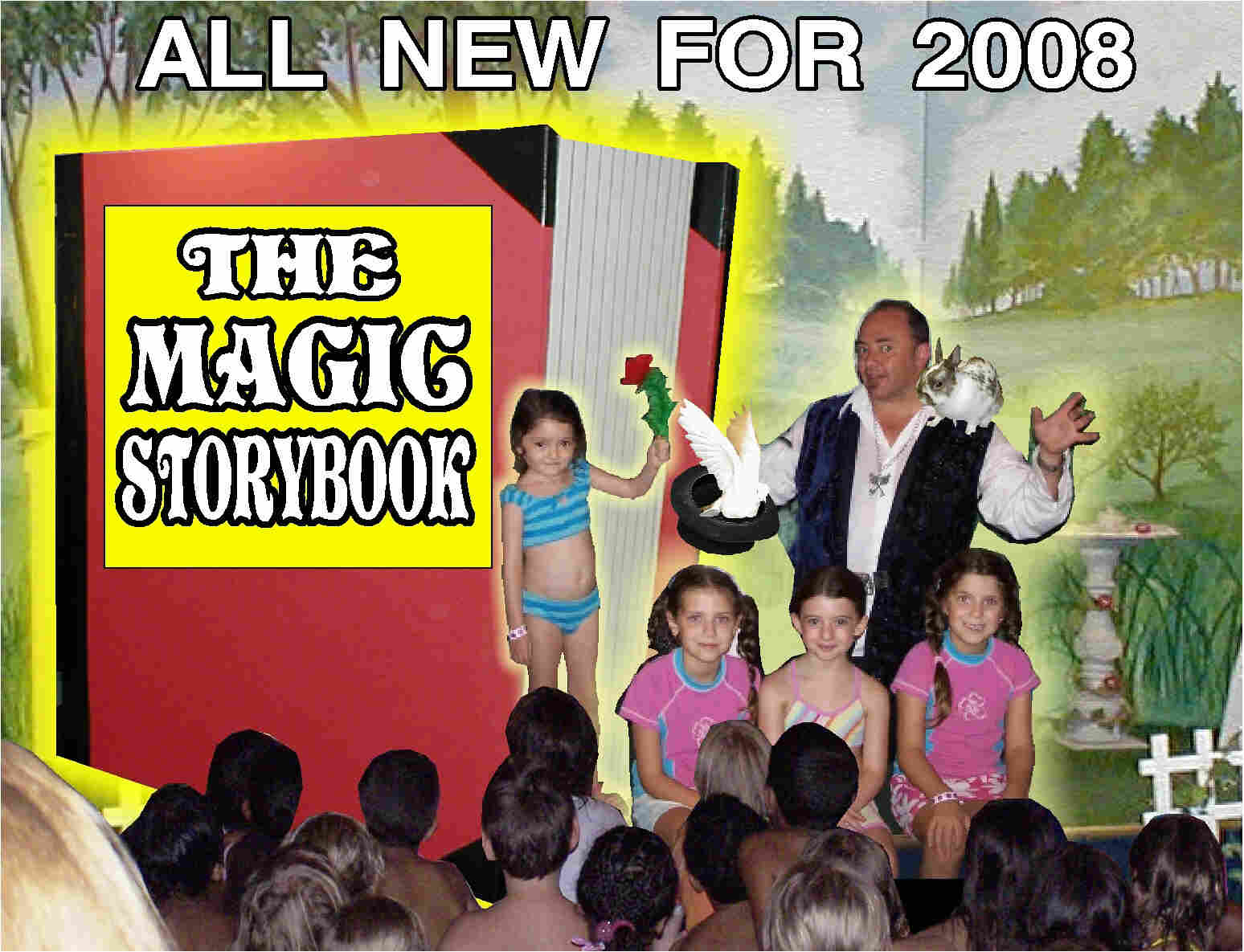 A GIANT book that does amazing things and YOU are the star of the show!!! The most AWESOME interactive, fun , magical children's theater in the Pocono's Pa.
*This beautiful backdrop is just one of the pieces of scenery that Stephen uses in his traveling Illusion Shows throughout the year. If you would like to bring the "Garden of Wonders Theatre" to your community for a fun, family-style, stage production that the whole community will enjoy... please contact us for details of this fantastic, fundraising opportunity!
Enchanting, colorful lights, glowing crystal ball, curious forest creatures, and a mysterious, cascading mist, bird-bath help to set the mood for the show that is about to begin.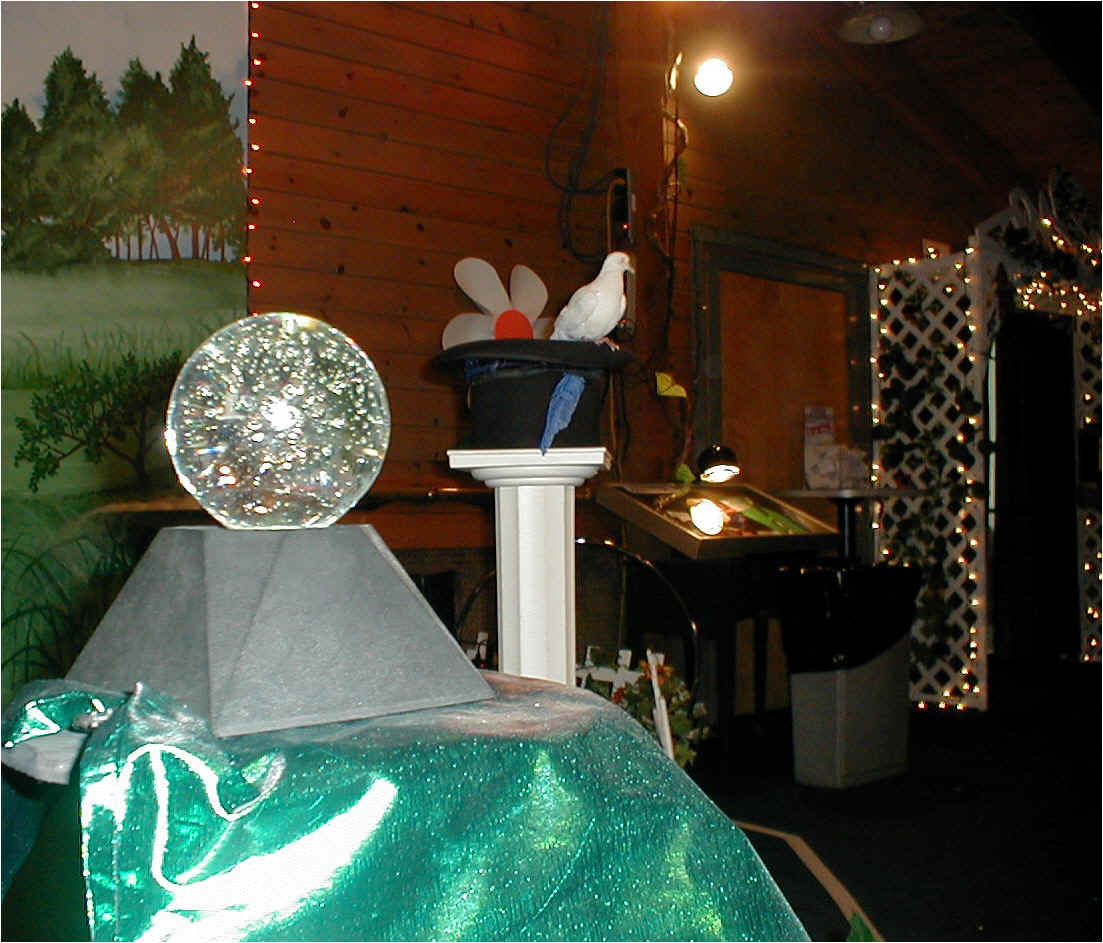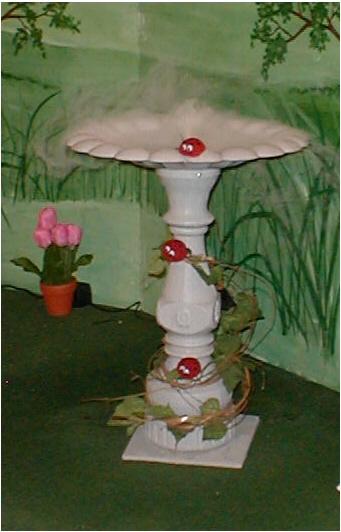 The children "oooh" and "aaah" and "wow" as they point out the magical features of the theatre and the excitement builds as they sit in anticipation of the show.
Music fills the room and some kids pose & dance in front of the gardenís "fun-house" mirrors.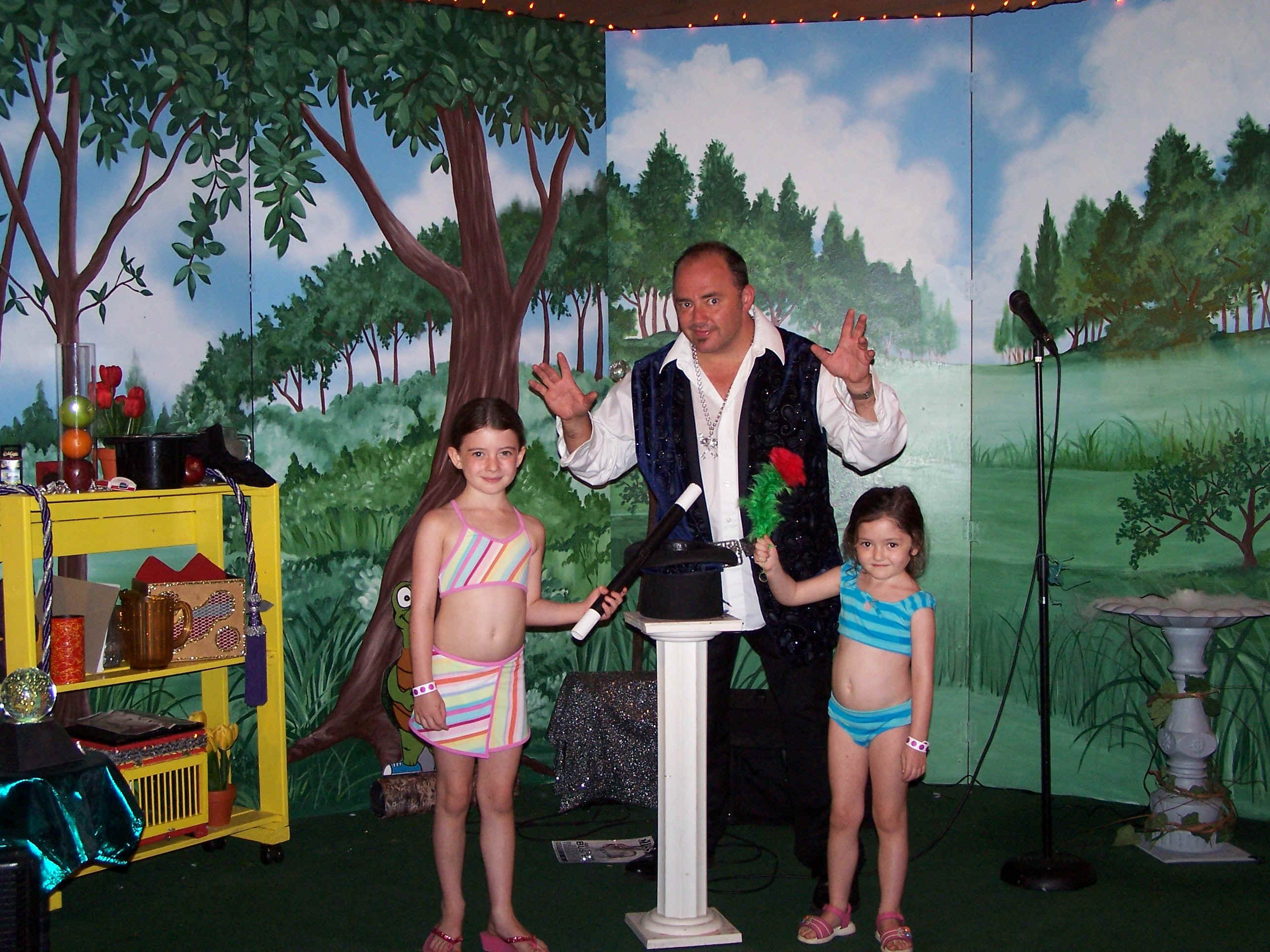 The kids just want to have fun and Stephen Christopher delivers the goods.
Things appear and disappear...float on air...and change shape!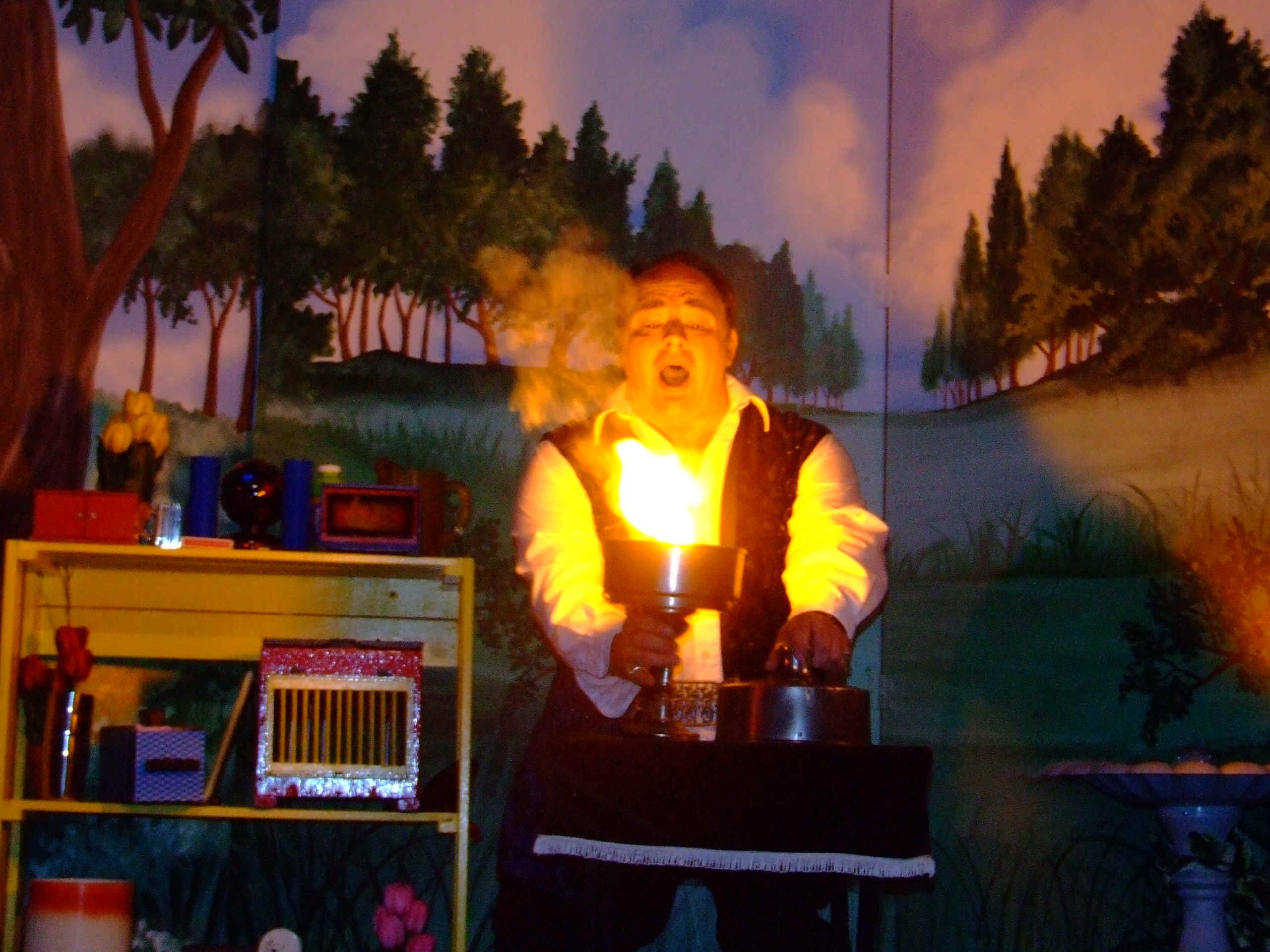 Overgrown, toy lady bugs come to life and appear and multiply in the children's hands and every child who assists on stage takes home an awesome free magical gift!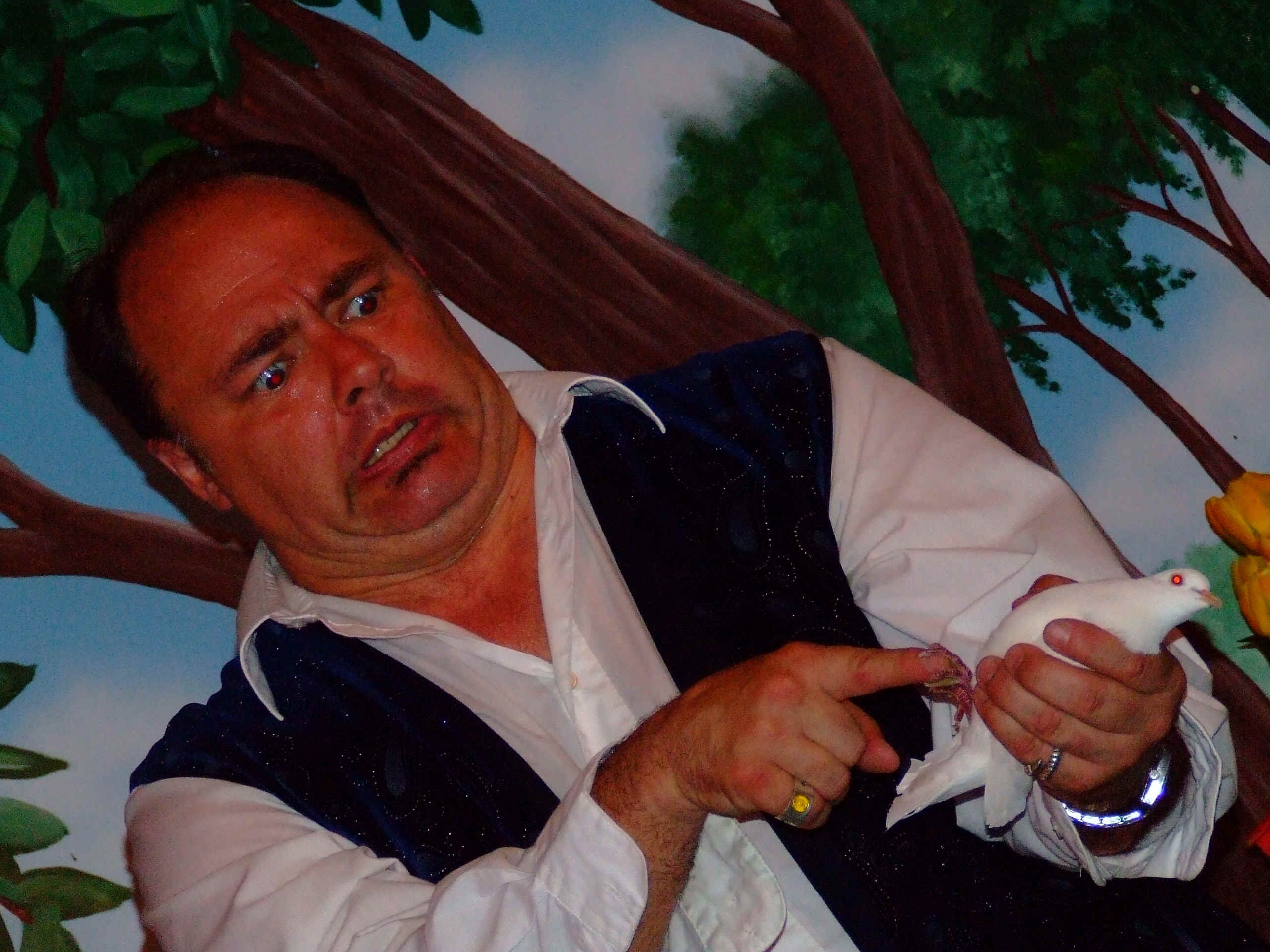 ( Serious Silliness)
So much more than just a "kiddie, magic show" ... the kids love Stephen's "wise-cracking" humor and he interacts with the whole crowd making each individual child feel special as though the show is for them exclusively.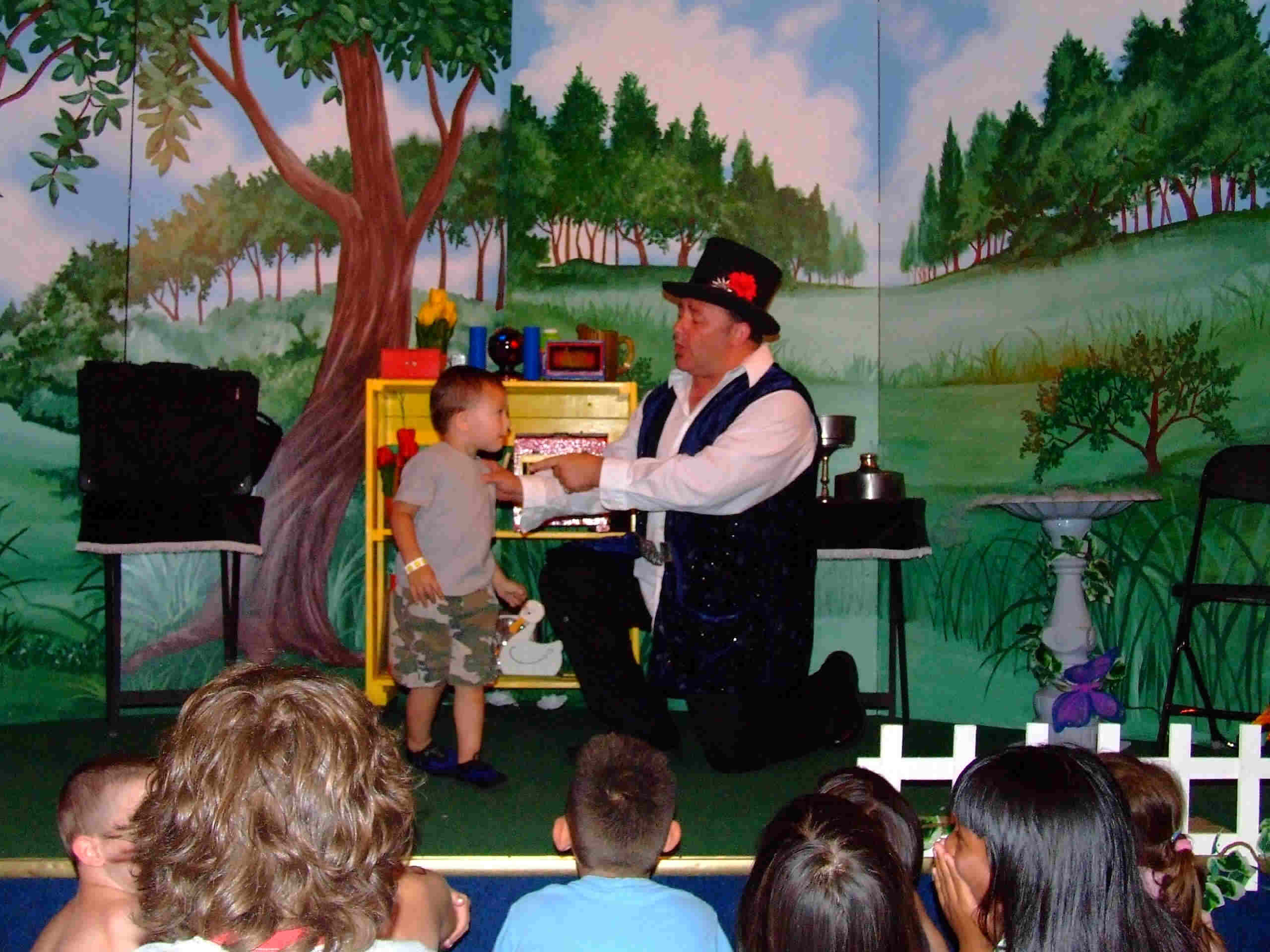 Interaction is encouraged and the kids truly become part of the show whether they are the "hams" who like to come up on stage and be the center of attention or the quiet ones who hide in the back on their moms lap...Stephen uses his quick wit and gentle, improvisational approach to take the show from the stage to the back of the room and make either type of child feel like the star of the show.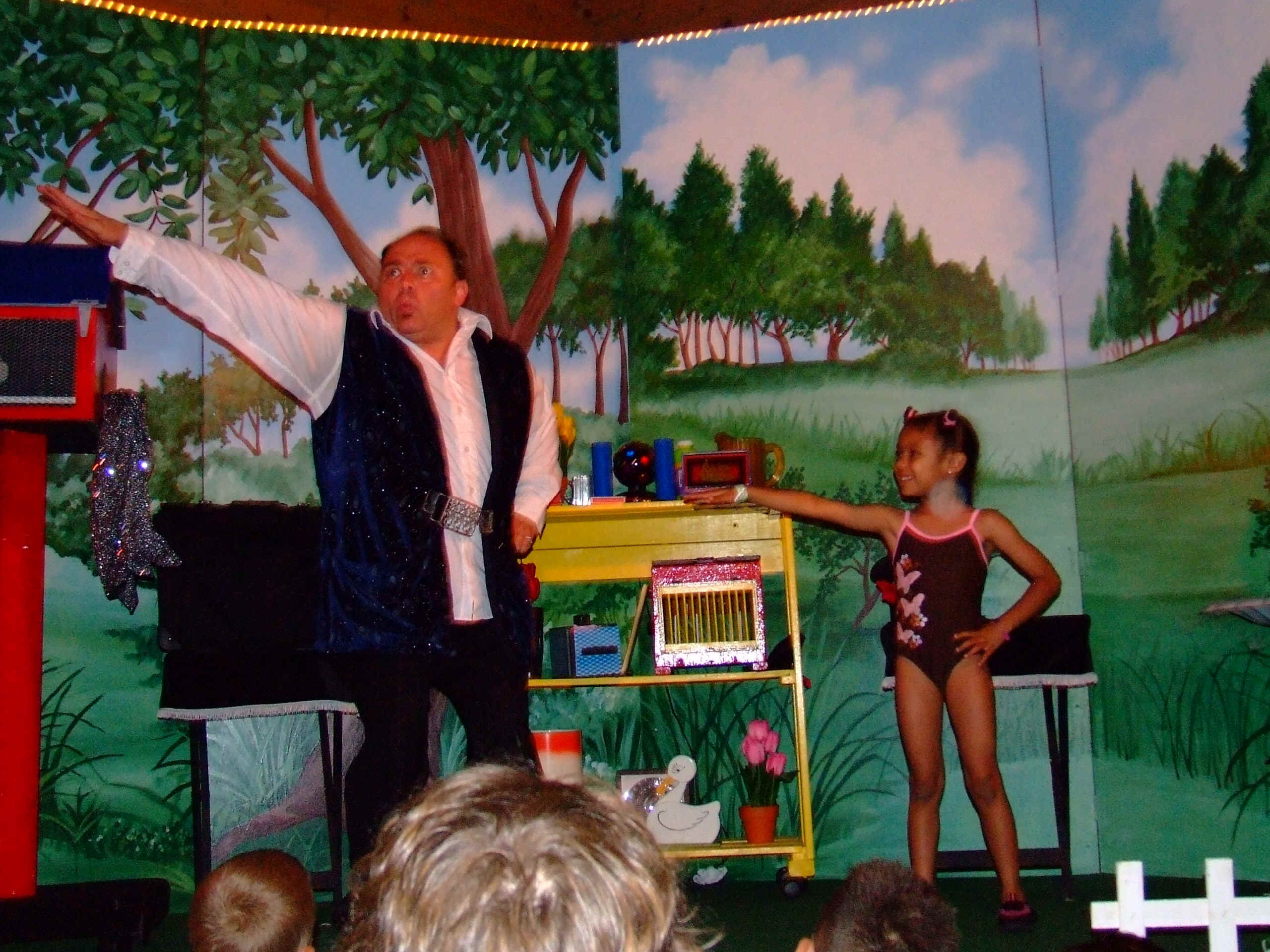 ( strike-a-pose )
Live birds, bunny-rabbits and even a 6-foot boa-constrictor make special appearances and interact with Stephen and the audience.
"Ruby The Wonder Bird" is unforgettable as one of the stars of the show... and the kids love to shout out in unison the Ruby "Cheer"!!!
From the moment he steps on the stage , Stephen has the kids rolling in tears of laughter, shouting with enthusiasm and delighting in the mysteries and wonders of magical illusion.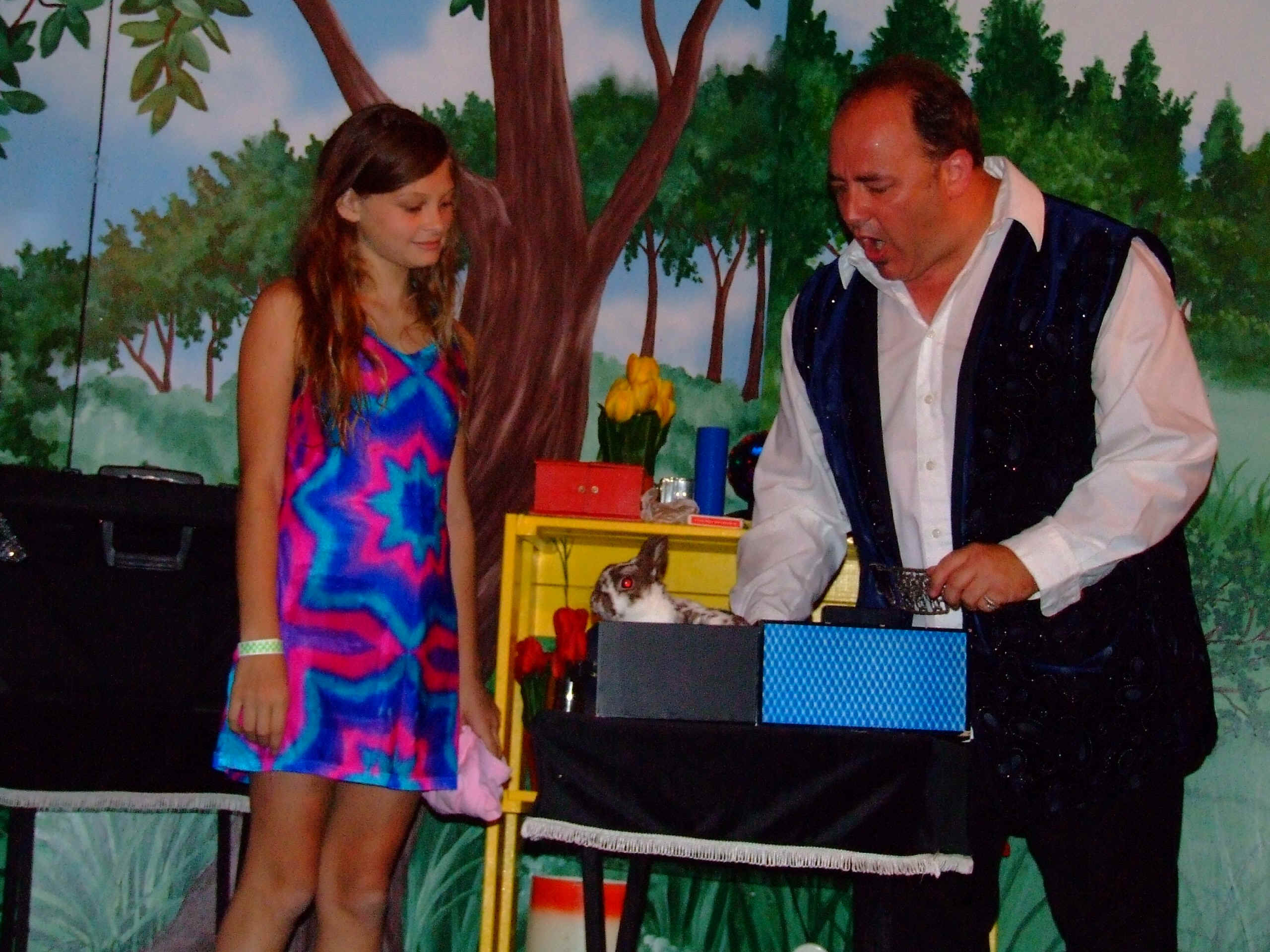 After the show the children and adults break out their cameras for the "meet & greet" ... everyone enjoys holding, petting and taking FREE photo's with their new magical, animal friends.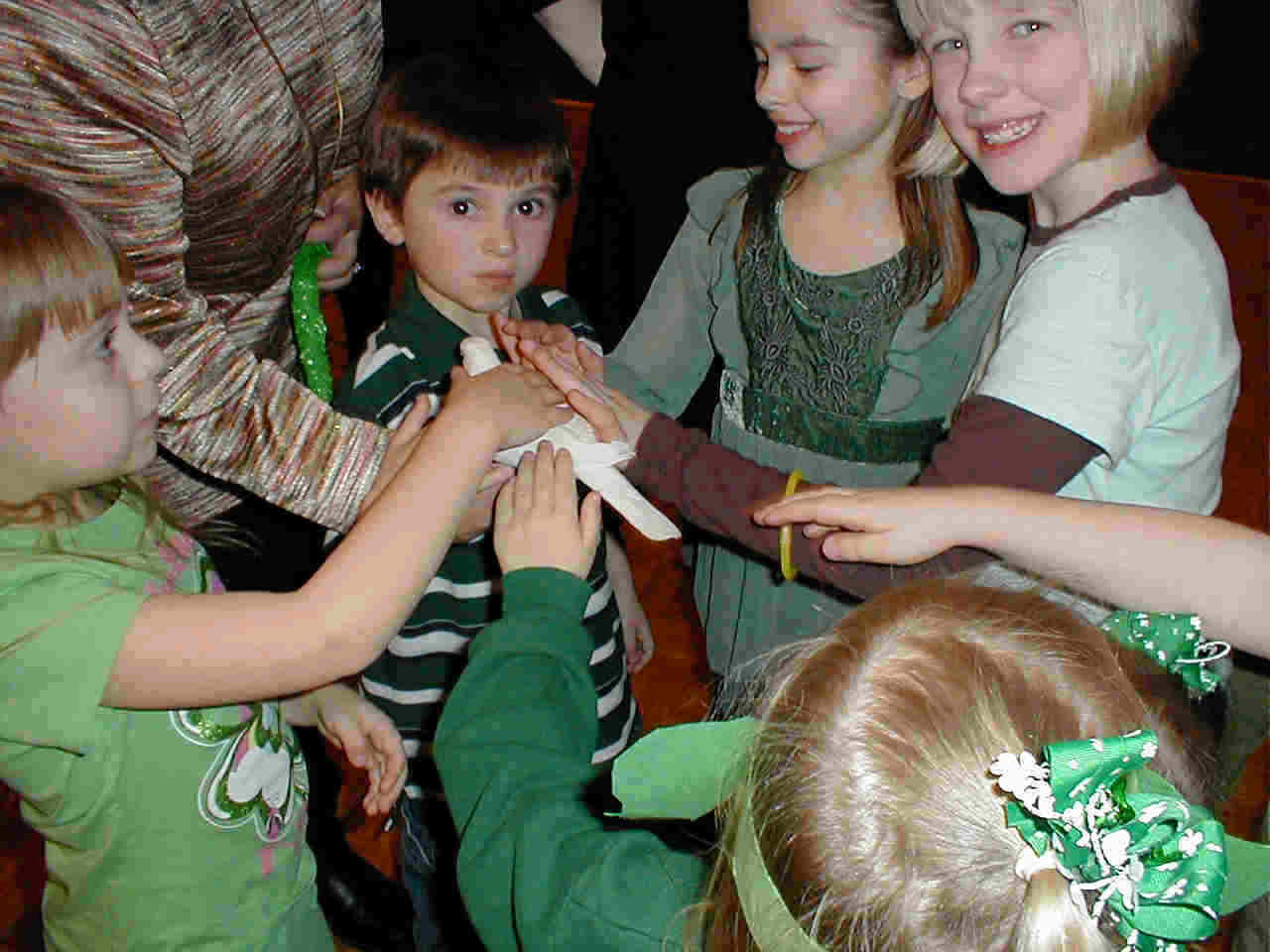 Some actual quotes (on file) from audience members...kids and parents...
"the show is awesome...more than a magic show...a whole, fun, magical experience"

"we had so much fun we came to all three shows today"

"we saw your show last year in Clifton, NJ at our Cub Scout awards dinner...Lots of fun... I'm looking forward to your show here today at Shawnee as much as my son is"

"it's amazing how you can have a 3 year old and a 12 year old on the stage at the same time and you're able to work so well with both of them and make the whole thing funny and entertaining"

Hi Stephen, We saw you at Shawnee place a few weeks ago and my children (and my wife and I) loved your show. My kids still have the "ruby" you gave them. My son will be turning 5 this month and we want to know if you would be available for his party on either September 29th in the afternoon or October 1st during the morning hours? We live on the upper west side of Manhattan. Regards, Elliot

My name is Antonio C. My family and I saw your show last week at Shawnee Place in PA. I just wanted to say we all loved it. We also stopped by the *pizza place you recommended... thanks so much for that too! That was some darn good pizza!
Thanks again and if you ever perform in the Washington D.C. area, please let us know... not sure if you have a newsletter... or some e-mail list... if you do, please add our e-mail to it.
Adios, AC
*Note ( Tony's Pizza... on Crystal Street in East Stroudsburg, Pa. ...real Italian, NY style pizza... the best! Bring your family to the poconos and enjoy the best pizza in Stroudsburg and also Stroudsburg magician and fun kids magic show at Shawnee Place. Stephen )

"We had our whole group of children at Shawnee Place for a day trip... your show was great! ...Would like to book your show for next week at our Day care center for our parent's day....Thank you so much...
Maria, The Growing Tree, Marshalls Creek, Pa.

IF YOU WOULD LIKE TO TREAT YOUR PEOPLE TO A FUN, FANTASTIC, MAGICAL AND THEATRICAL EVENT....
PLEASE EMAIL: [email protected]
3 shows a day, 7 days a week is one of the reasons why magician Stephen Christopher is one of the busiest magician in the poconos and a favorite magician in the poconos and the entire Northeast.
Stephen travels the northeast from Maine to Maryland throughout the rest of the year with specialized shows for children, family and/or adults for schools, clubs, resorts, fairs, fund-raisers and private parties.
Personal attention for your event that you will find nowhere else.
text copyright 2006 www.OptiMystiks.com
The Garden of Wonders Theatre TM www.OptiMystiks.com