HOT DOG BUSINESS OPPORTUNITY!
HOW TO START YOUR OWN
INCREDIBLE HOT DOG BUSINESS
ON A SHOESTRING BUDGET
Many people dream about opening a hot dog cart or hot dog stand.
If YOU are thinking of starting a Hot Dog business than DO IT RIGHT
MAKE YOURS THE BEST IN TOWN!!!
You can CREATE A STIR and be a SENSATION with...
YOUR OWN "INCREDIBLE HOT DOGS"TM BUSINESS
Imagine! Your own INCREDIBLE Hot Dog Business! Truly a GROUND FLOOR OPPORTUNITY.
*(PICTURED ABOVE RIGHT IS "CAT". (Cathi) IF "CAT" CAN DO IT... THEN CERTAINLY YOU CAN TOO!
Are you looking for a Hot Dog Franchise opportunity?
This is NOT a Franchise!
BETTER THAN A FRANCHISE ...FOR THE PERSON JUST STARTING OUT ON A SHOESTRING BUDGET.
BE A PART OF THE COOLEST HOT DOG BIZ IDEA ON EARTH!
"INCREDIBLE HOT DOGS"
Think about it ... Most Hot Dog stands are basically the same. They serve basic hot dogs with a few standard toppings. Most of the time these Hot Dog stands rely on "passerby traffic" who stop on a whim.
We had one of the coolest Little Hot Dog Shops ever. A small "hole in the wall" shop. Customers traveled for many miles ... time and time again...passing many other Hot dog Shops and stands along the way...just to get our INCREDIBLE Hot Dogs that they could not get any where else.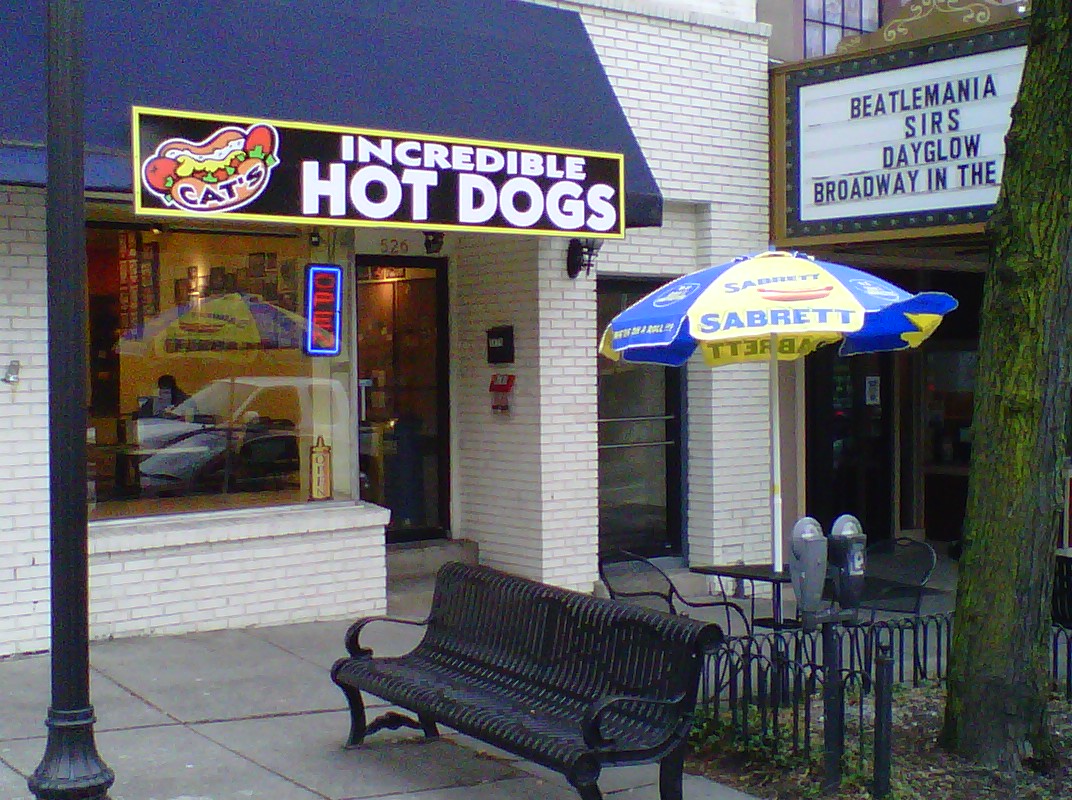 Imagine... the look of a franchise. The training. The attitude of a franchise but...
NO franchise fees or royalties EVER. You are INDEPENDENT!
This is YOUR BABY ... YOU are in control.
Just a ONE TIME "Starter Kit" purchase...at an INCREDIBLE LOW investment price. You won't believe it!
Our "Business-In-A-Box" package... training program will show you exactly how to get started.
Includes CD's, DVD's and Training guide, sign & menu templates and MORE!.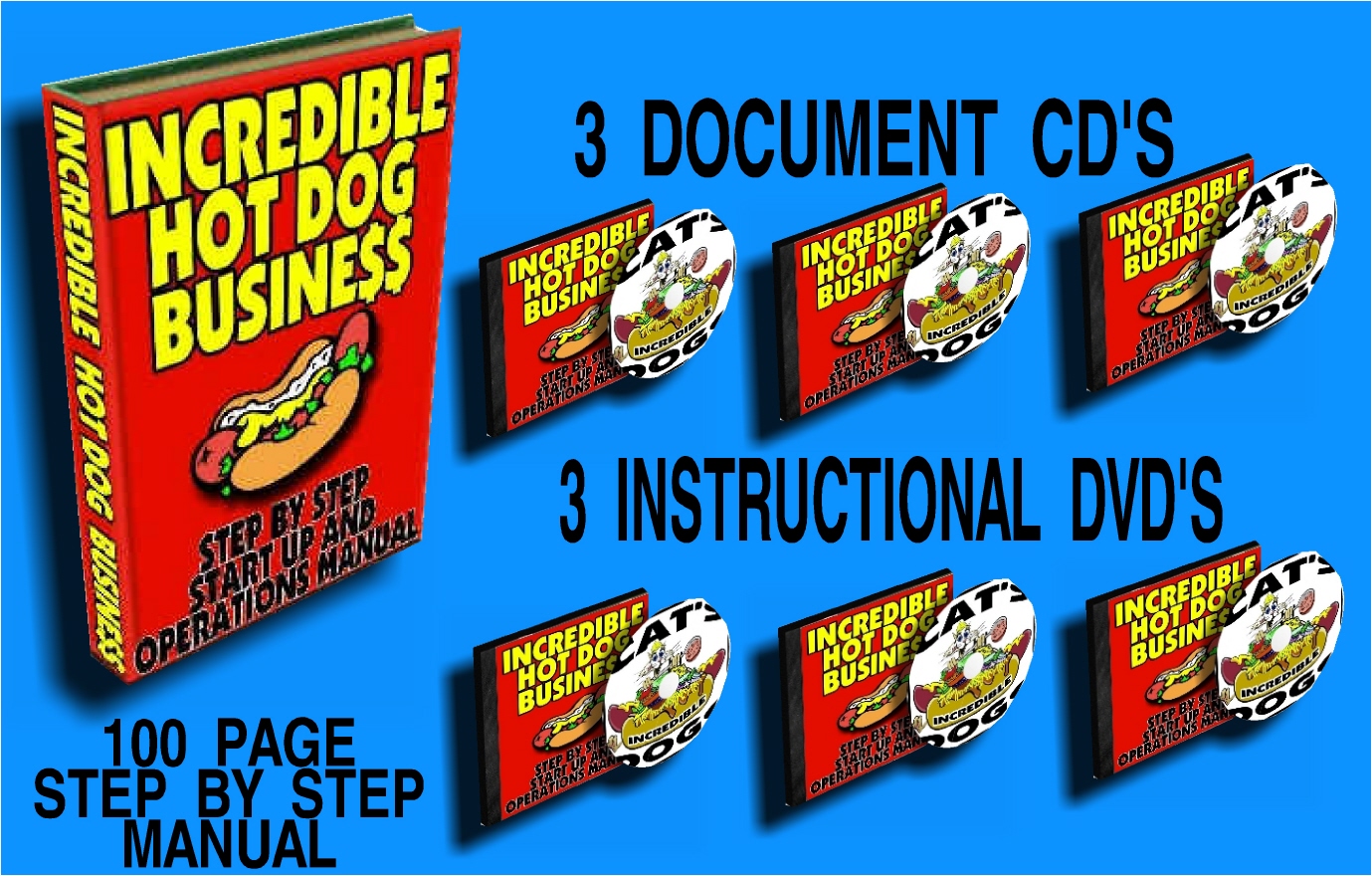 *How to get the best equipment at the best price.
*Where to get your food supplies... "consistency and convenience" are the key.
*How to find the right location and Why LOCATION is NOT everything.
*Simple Recipes for the MOST INCREDIBLE HOT DOG TOPPINGS ever to exist.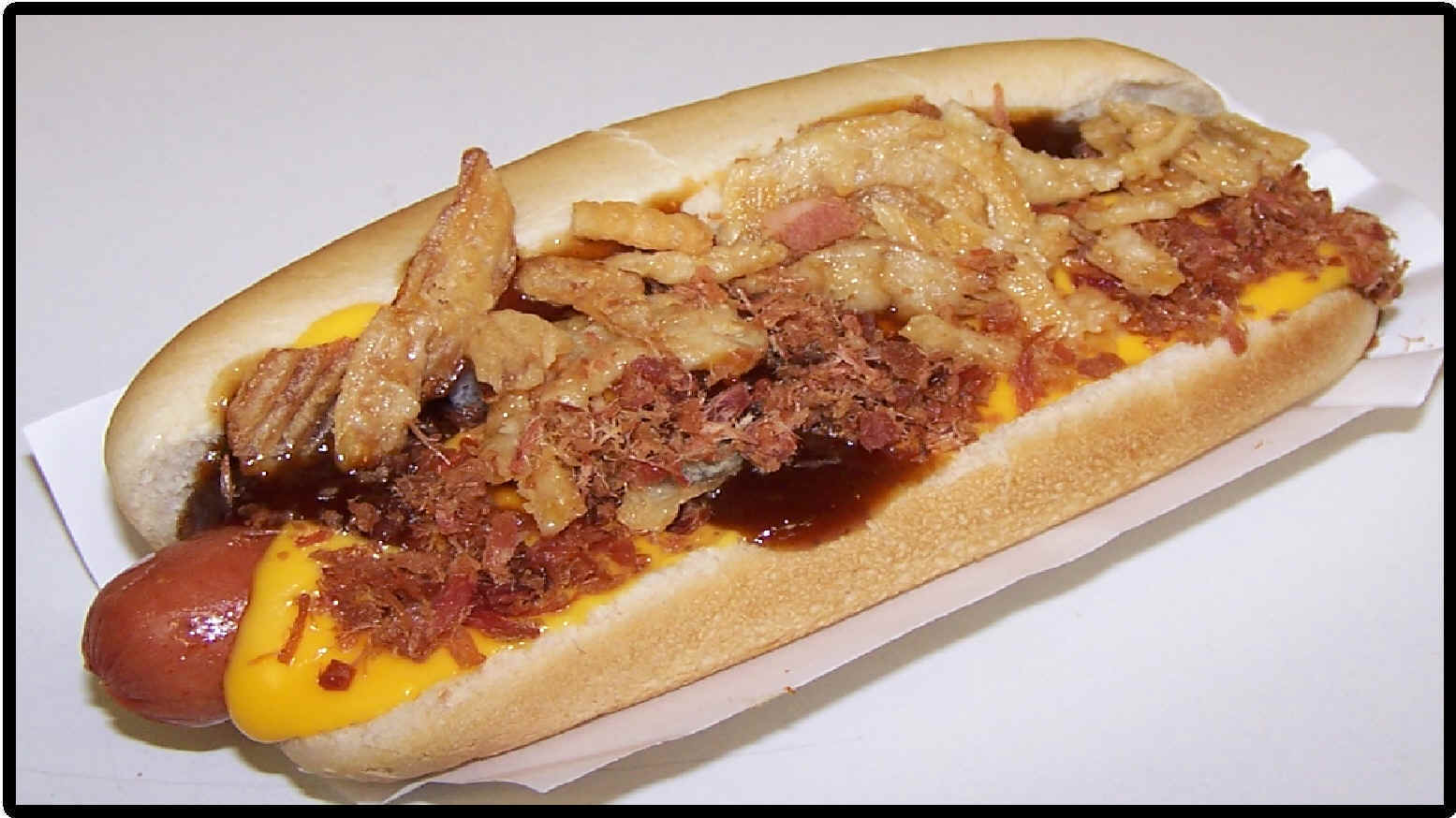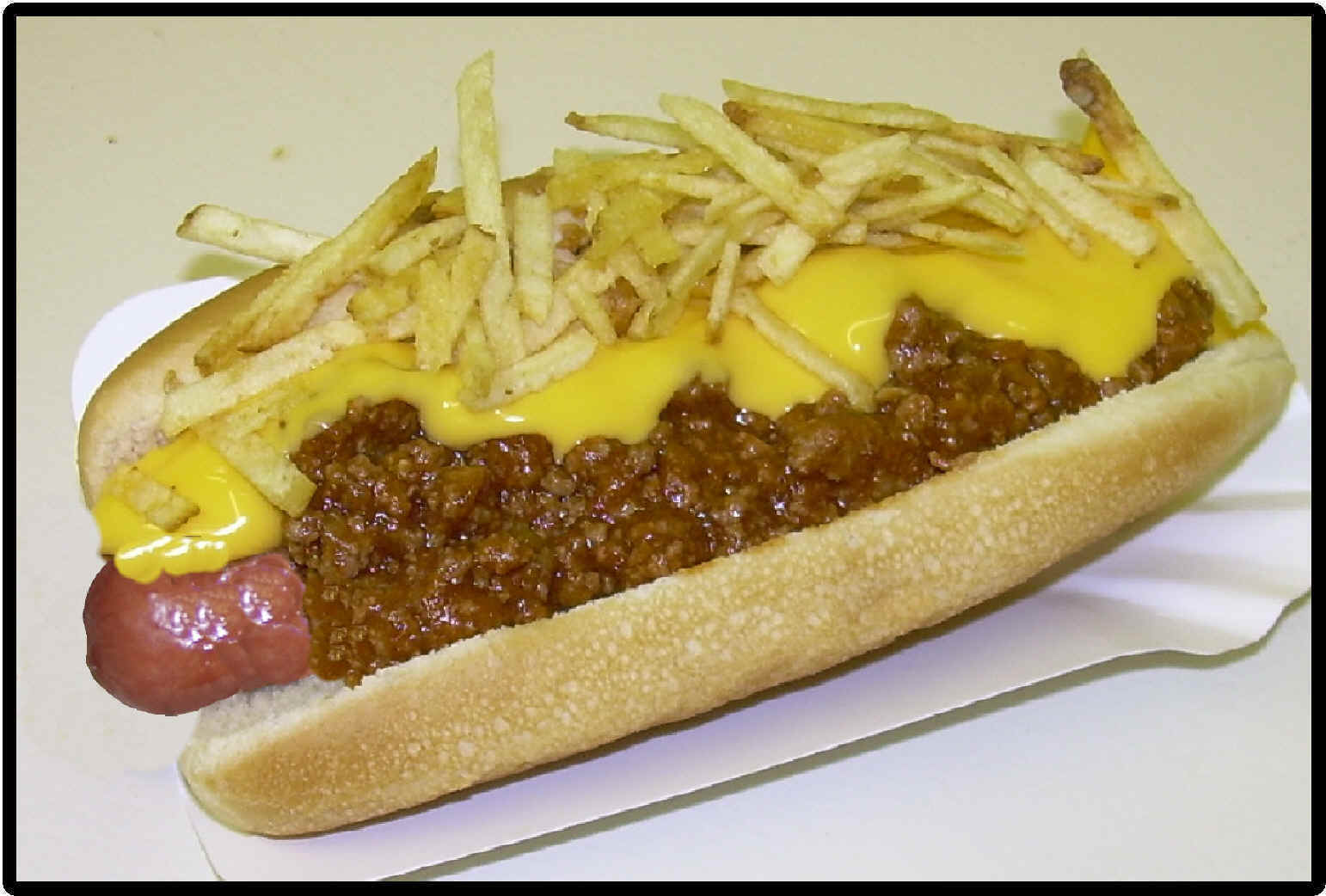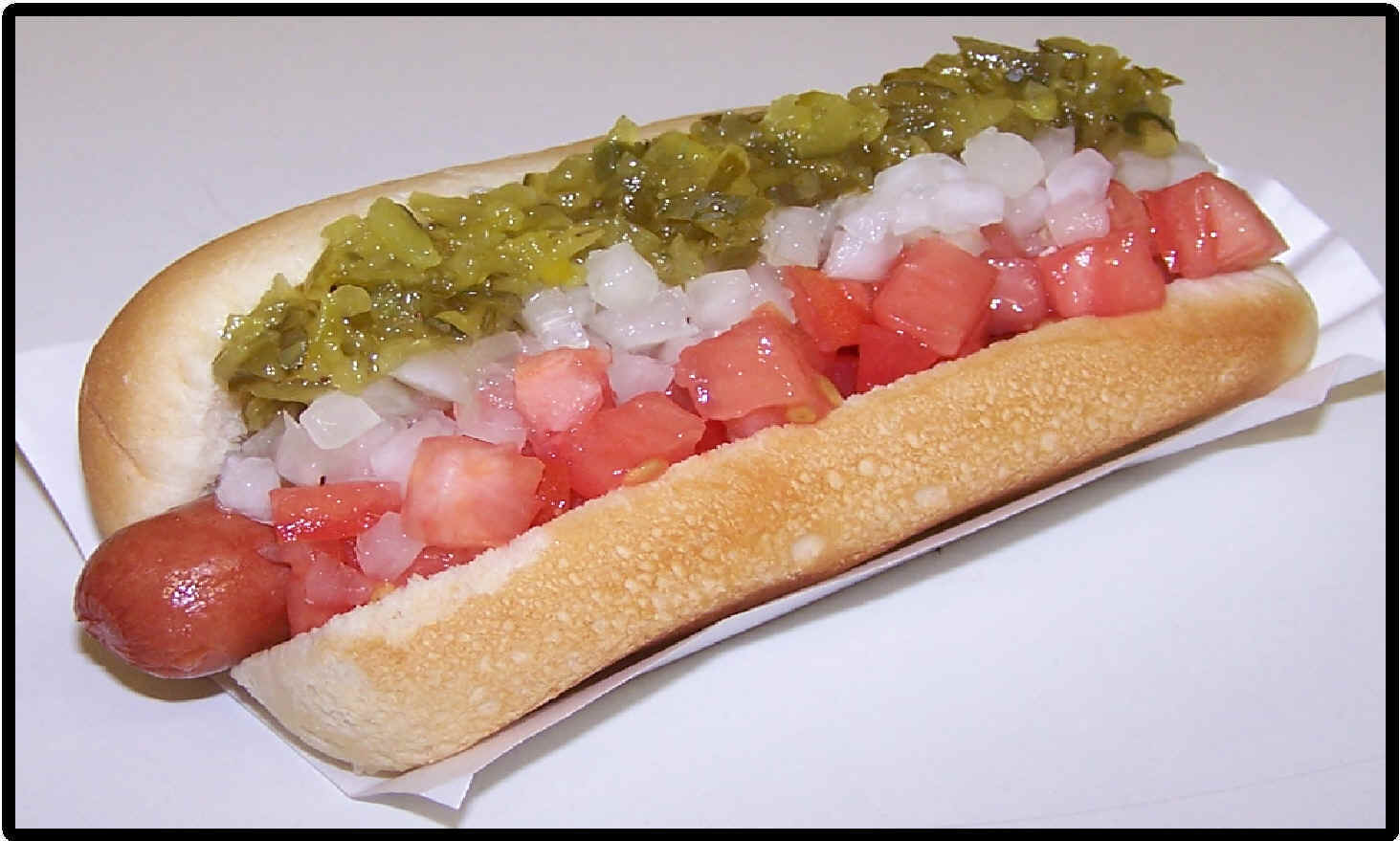 *The Ancient Magic Secret that many ignore but we EXPLOIT and review and hone to perfection weekly..
*How to build a stream of LOYAL customers who LOVE to come to your place for fun , delicious food and friendly service.
*Templates for signs and menus with our ORIGINAL Hot Dog creations that YOU CAN USE ... just add YOUR NAME and bring to the printer and your place will have...
the "LOOK" OF one of those FRANCHISES.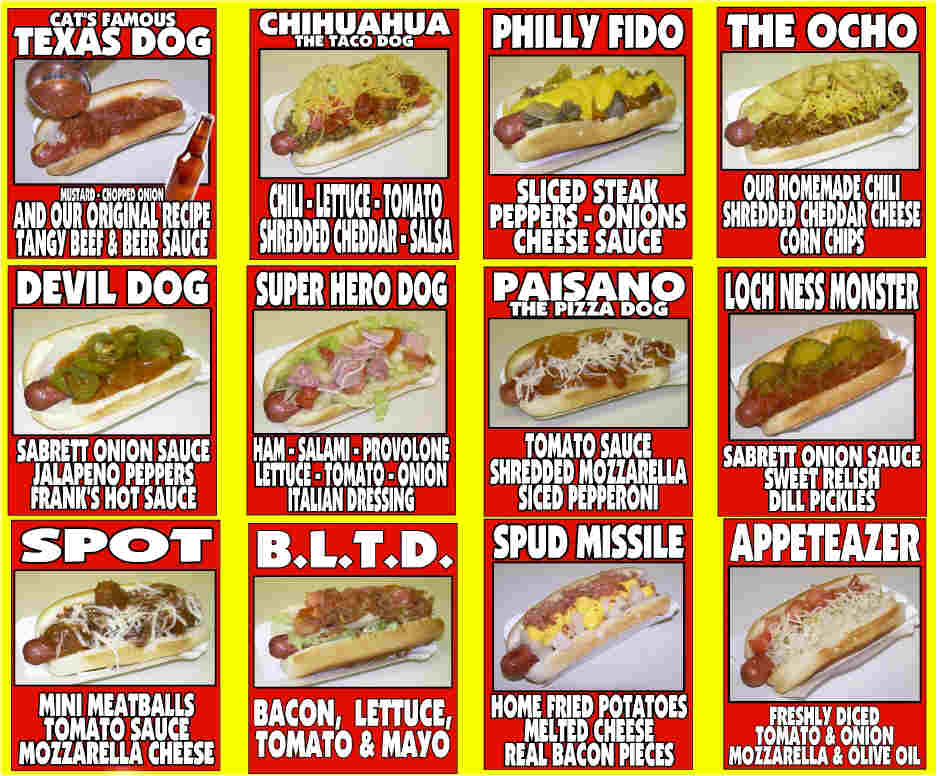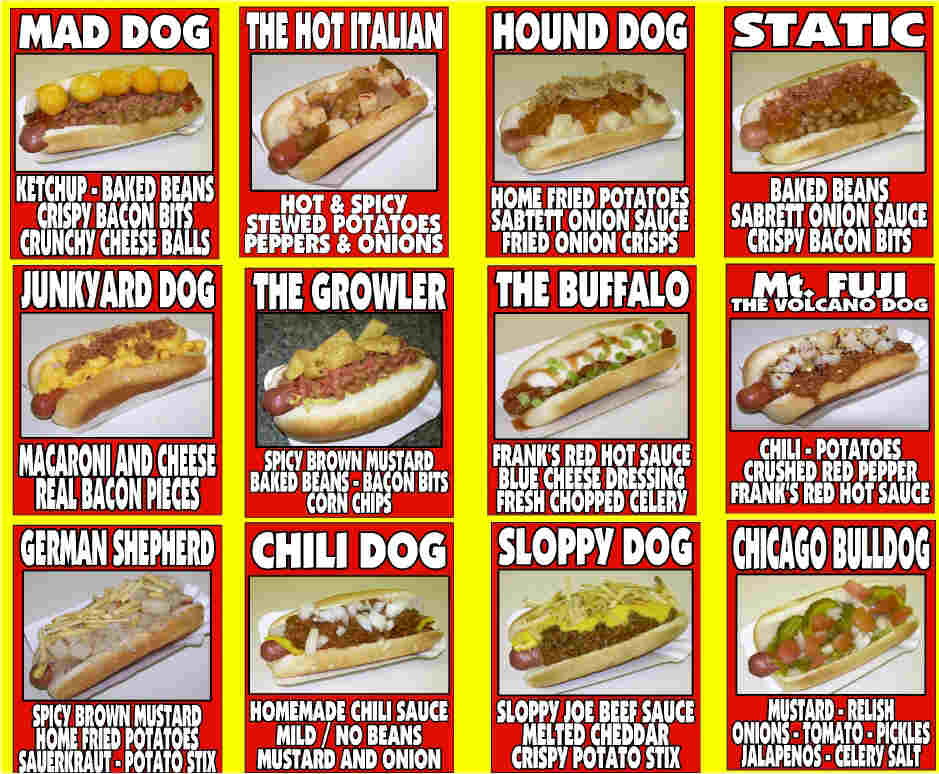 So much more!!!!
EVERYTHING you need to get started on your road to your VERY OWN successful business.
No we can't guarantee your success.
This is YOUR business. YOU are the BOSS.
YOU SUPPLY THE BLOOD, SWEAT & TEARS AND THE JOY & REWARDS OF SUCCESS!!!
We will show you EXACTLY how we started from scratch, on a shoestring budget, to create a successful, thriving, exciting, fun, popular HOT DOG joint.
DEFINITELY the coolest & busiest hot Dog place in our area.
Maybe the COOLEST little Hot Dog joint on the planet.
Everyday people would come into our shop and tell us how they "wish they could have a place just like this".
WELL...YOU COULD...WHAT ARE YOU WAITING FOR? WE'LL PROVIDE THE TOOLS.
TODAY YOU ARE READING THIS AND NEXT MONTH YOU CAN BE OPEN FOR BUSINESS!
FROM THE TIME WE FOUND OUR LOCATION TO THE DAY WE OPENED WAS 28 DAYS ... AND WE DID NOT HAVE THE STEP-BY-STEP PLAN THAT YOU WILL HAVE.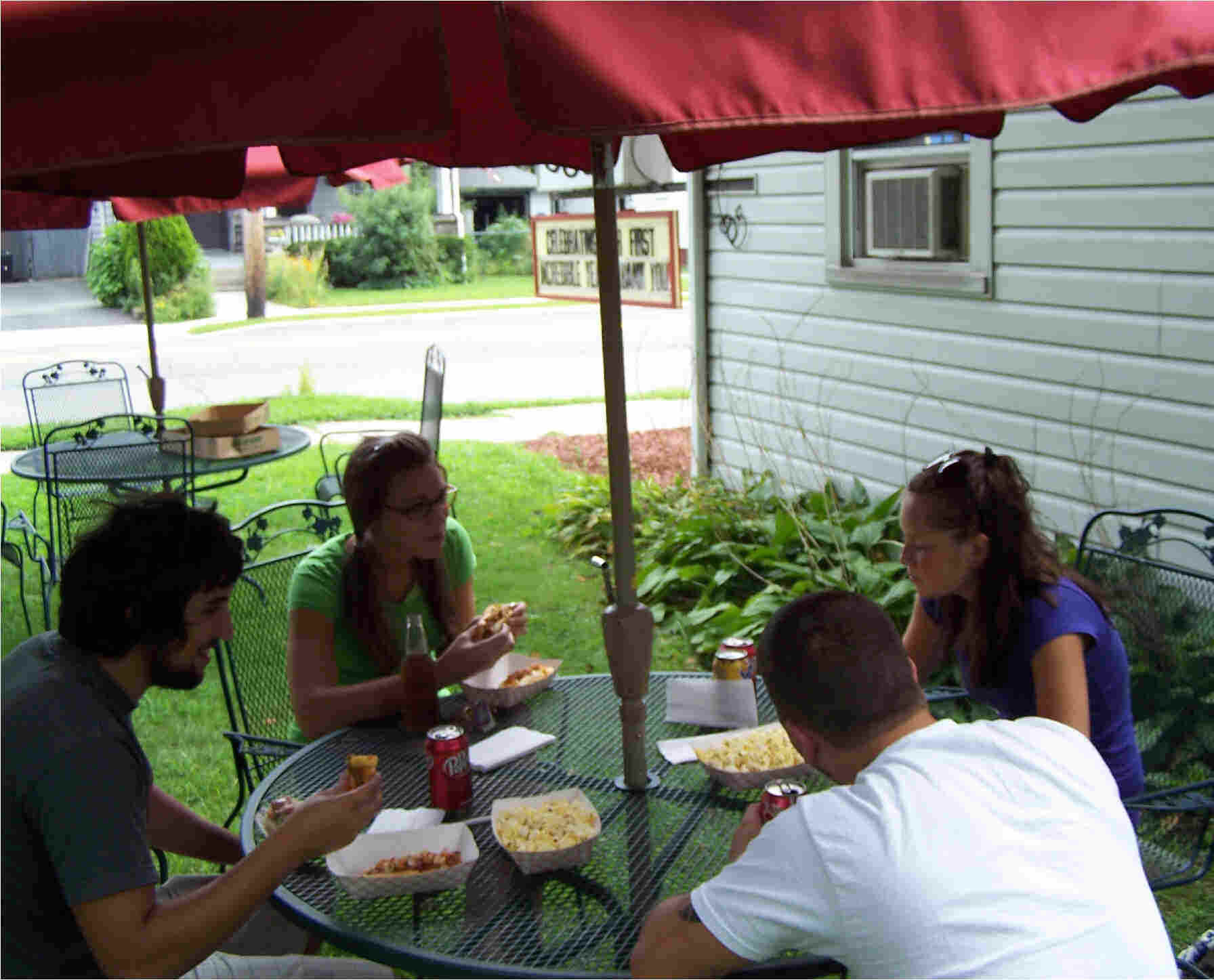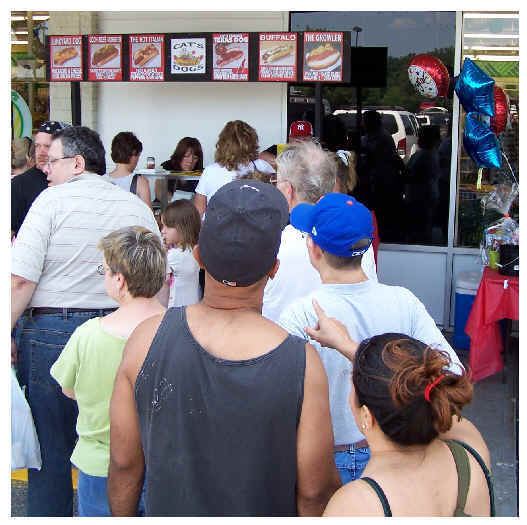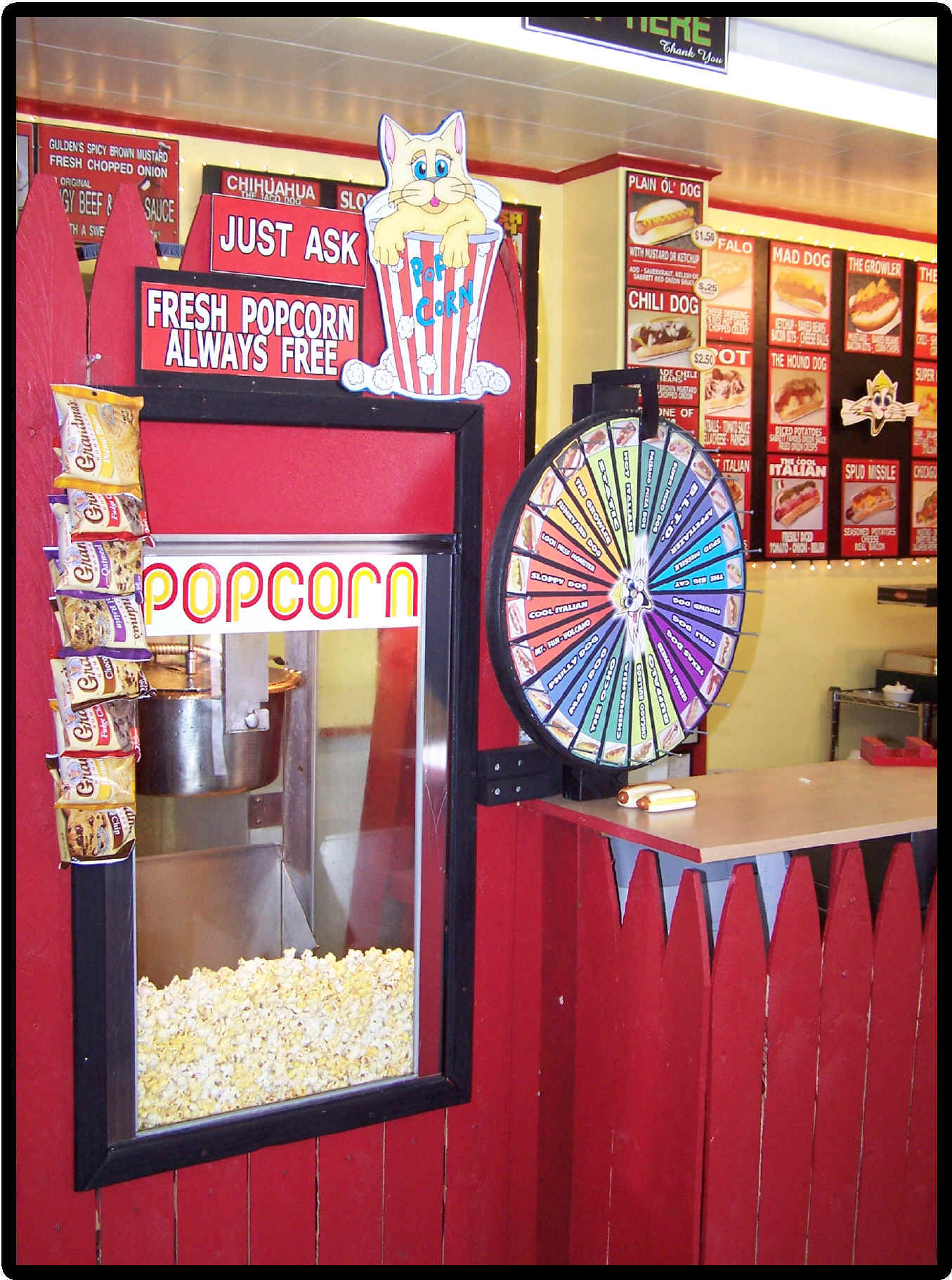 HOT DOGS ARE FUN FOOD AND MAKE A FUN BUSINESS
Right at the beginning of the BIG economy crash was when we opened our business we saw many businesses around us crumble while we stuck to our simple business plan and thrived and even expanded.
To millions of people The American dream of owning their own business seems like an impossibility-
so they just keep on struggling in a dead end job that they hate going to every day.
Day after day, year after year working to make someone else rich or fulfilling someone else's dream.
Well , first you gotta Thank God for your job and appreciate that you at least have a job in these tough times and appreciate that you have the physical and mental health to be able to work for someone else.
Once you are able to truly appreciate what you already have then you will be prepared to invest your time and energy and capitol to
BRANCH OUT into your own venture.
Many people see a hot dog cart or hot dog stand on the side of the road and say to themselves "Hey...I can do that!"
So many dream... but so few actually DO and for those that do take the plunge... the majority have no real clue of the challenges involved and can set themselves up for failure.
It sure appears that any schlubb can run a hot dog cart and I guess that's true. That's what we thought.
Seems so easy...so simple...just slap a hot dog on a bun...splash on some mustard and collect the cash.
Well it really is just that simple BUT very complex at the same time if you want to do it RIGHT for MAXIMUM SUCCESS.
THE HOT DOG BUSINESS IS A GREAT "FIRST TIME" BUSINESS
*You can start PART TIME while still keeping your current job security.
*You can work as many or as little hours as you choose.
( We chose to open only 22 hours a week ... and we'll tell you WHY )
*You can rent or buy a shop OR work our plan with a hot dog cart or truck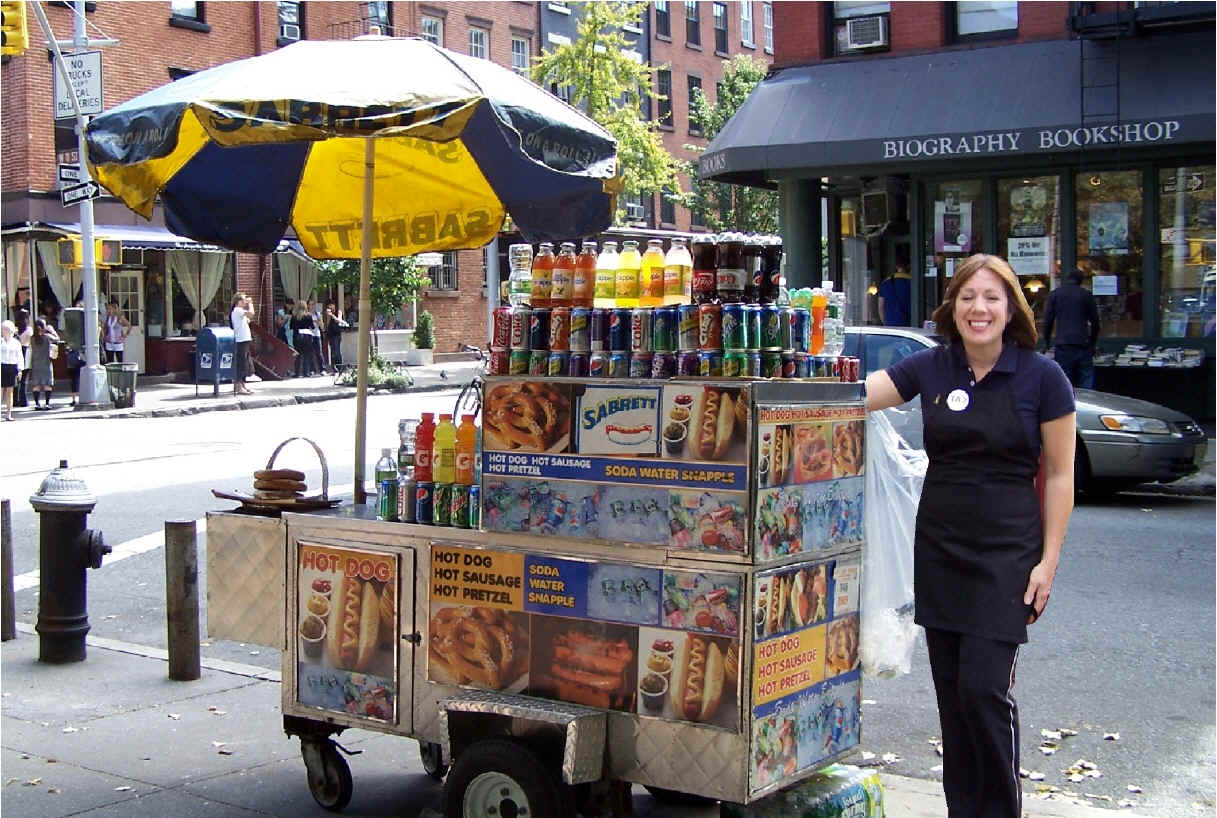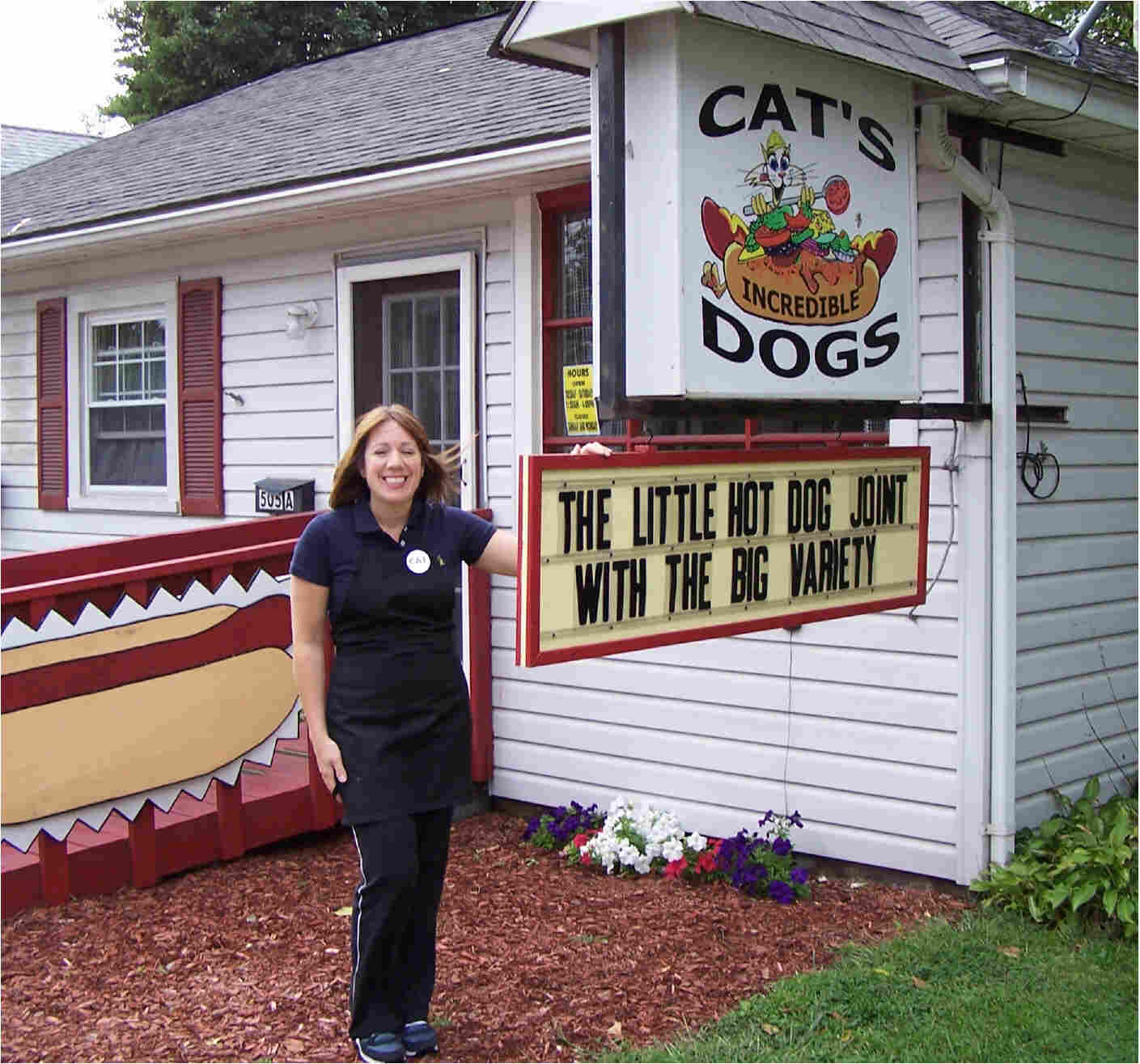 (We prefer a SHOP and we'll tell you why)
OUR BUSINESS IN A BOX OPPORTUNITY
If you search the web you will find many people selling info on how to get into the hot dog business.
There are several different "books" that sell from $20 or more on the internet.
These are great! BUY THEM ALL!
If you are planning to get into the business you should get as much info as you can afford
We are not selling just a BOOK.
This is a virtual COMPLETE BUSINESS IN A BOX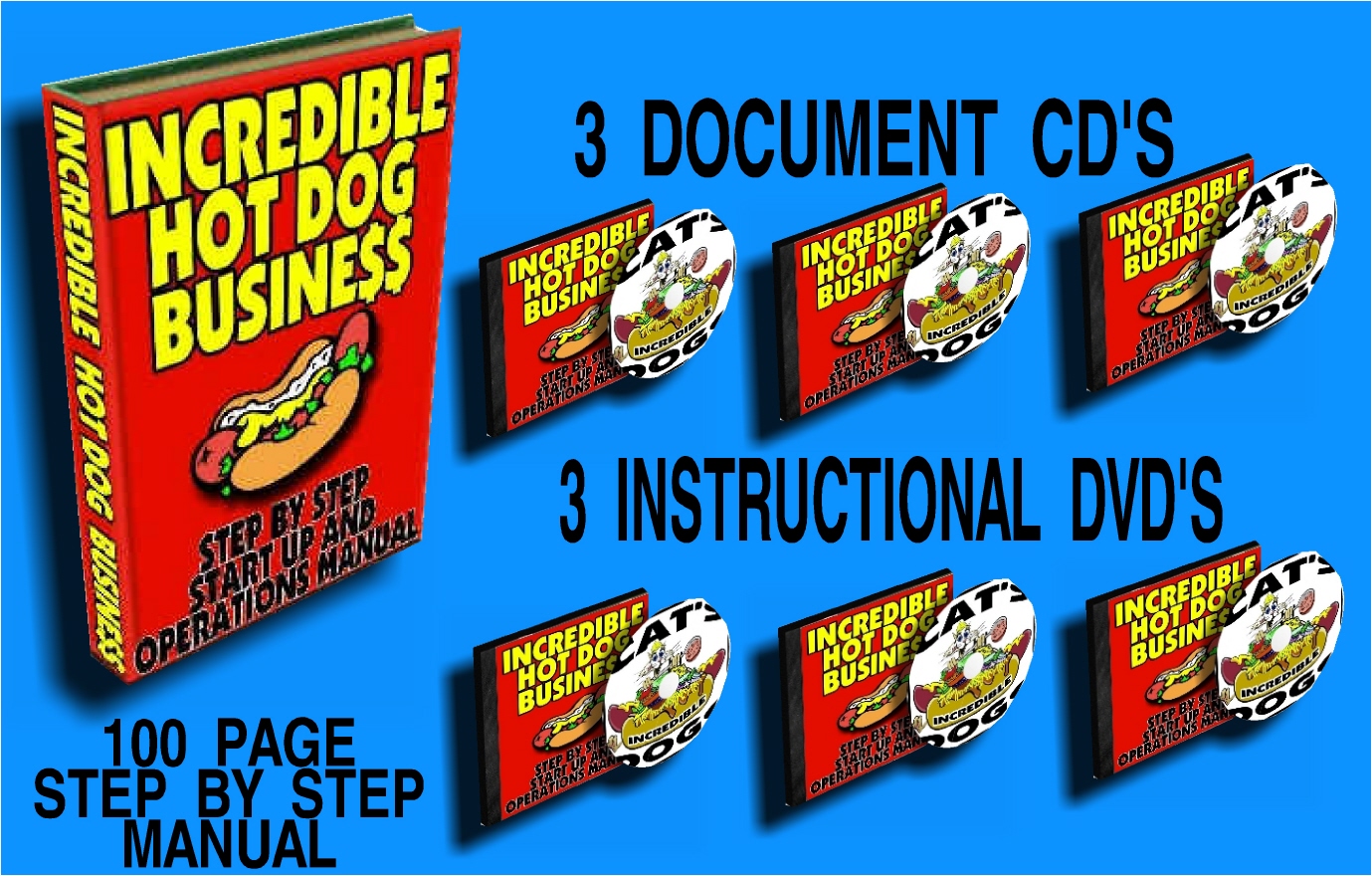 We are NOT an anonymous author with "ideas".
We ran an actual "BRICK & MORTAR" shop that was
VOTED THE BEST in our region.
We even beat a National Franchise in our area!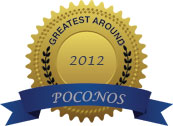 So, you may ask, if our business was so successful ...
WHY are we no longer in business and why are we selling our secrets?
My wife Cathi "CAT" was stricken with a lung disease that within a few months rendered her disabled.
I already was running my own successful full time business at the time but tried to run the Hot Dog business along with our sons but we soon realized that Cathi was was the "heart and soul" of "Cat's Incredible Dogs" and we could not run it without her.
Although our Hot Dog Shop closed several years ago you can visit the Facebook Page and still see all of the fantastic reviews and fans of the shop.
WE ARE OFFERING WAY BEYOND JUST A BOOK!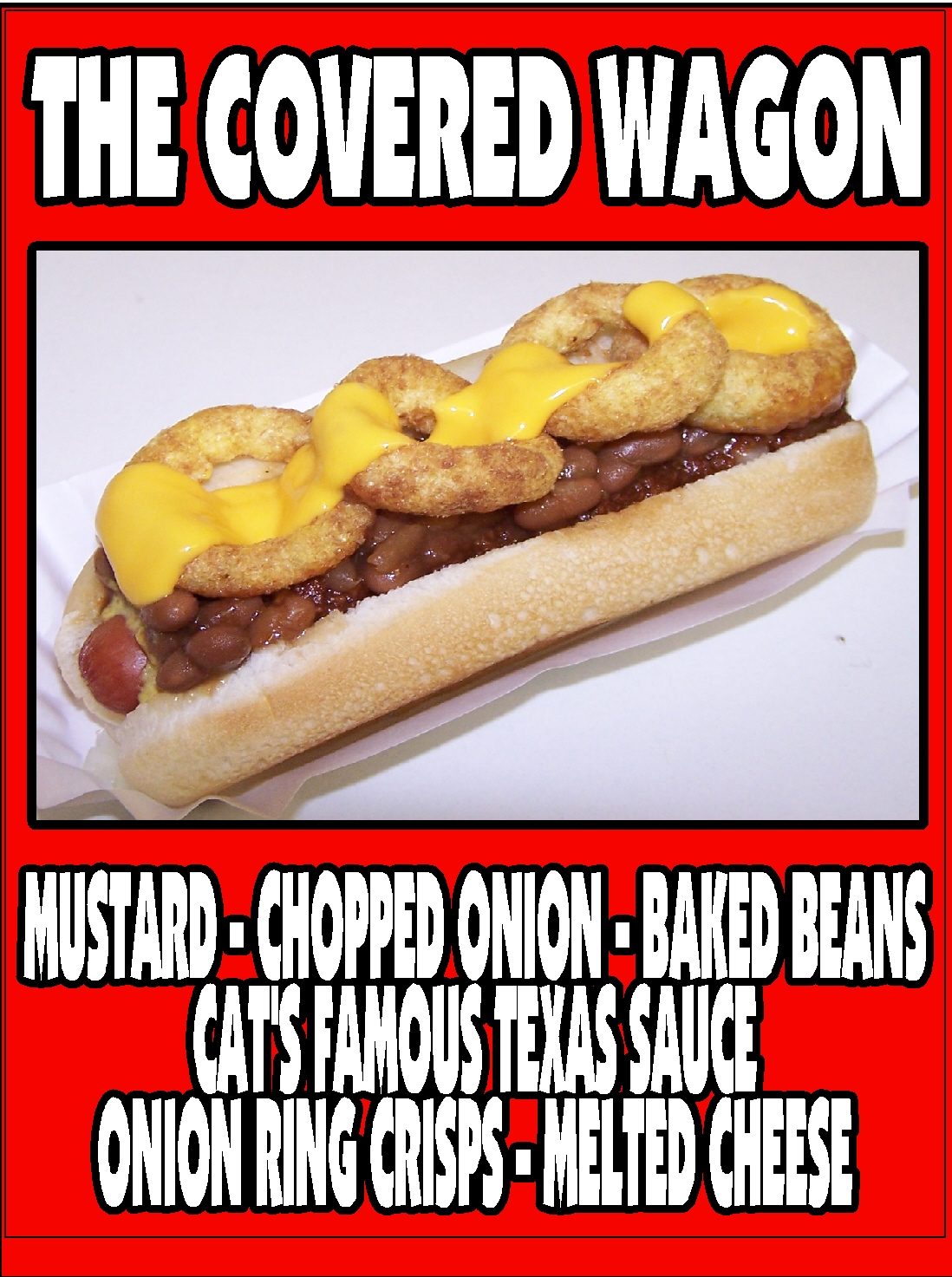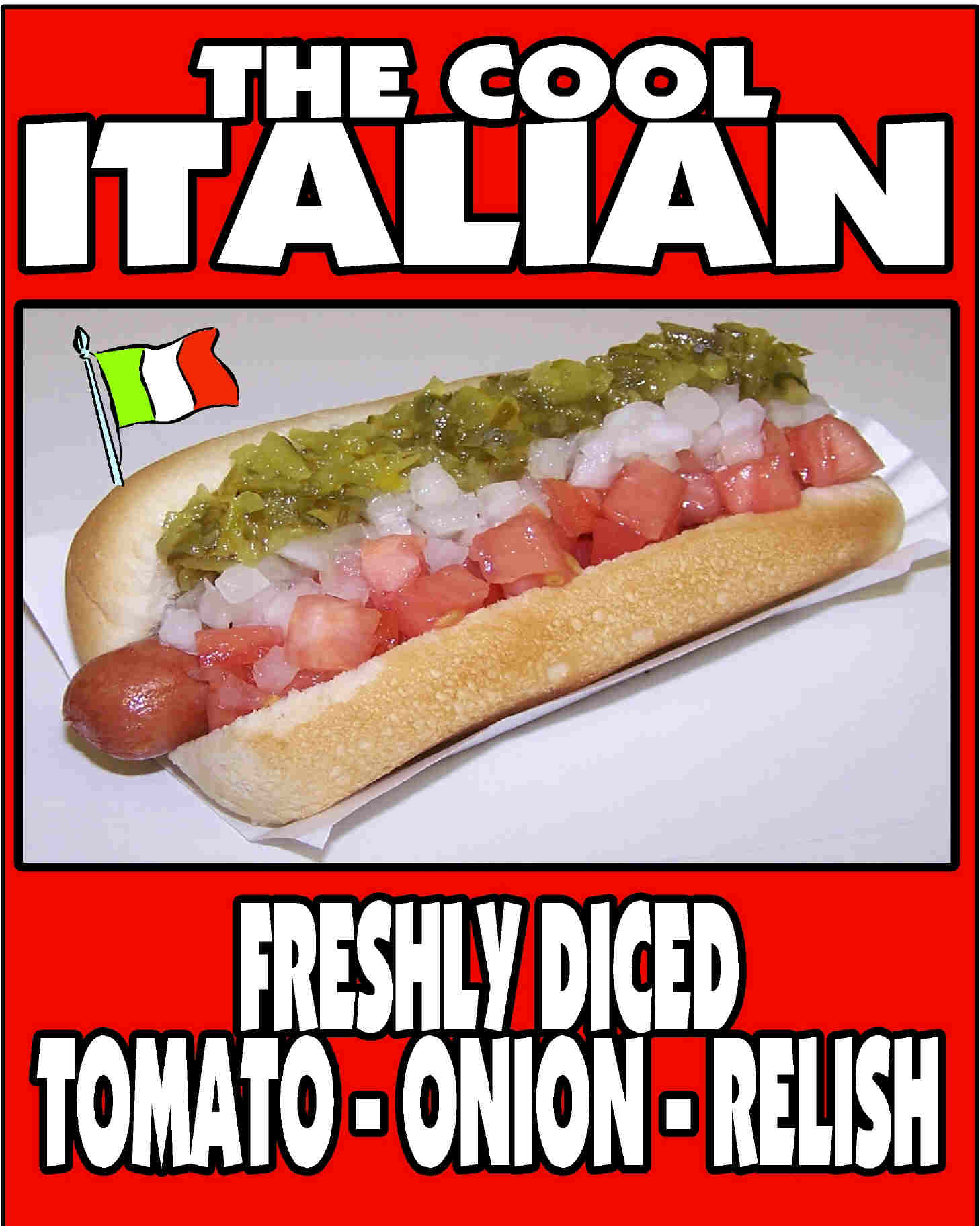 YOU ARE GETTING ALL OF OUR SECRETS HANDED TO YOU ON A SILVER HOT DOG BUN-
You are getting permission to USE our signs, menu's, recipes.....and Incredible Marketing Plan.
We're SPILLING THE BEANS.
NOTE:
*Our business is named "Cat's Incredible Dogs TM" or "Incredible Hot Dogs TM"
*You are NOT purchasing rights to use our name/s.
You must use your own name for your business and you will want to have your own unique original name for YOUR business.
*You will NOT OWN our original artwork, logos etc....you will be purchasing the rights to USE them for your business.
*You may NOT resell rights our original artwork, logos, etc. Sign Art, Logosetc. remain property of Cat's Incredible Dogs.
*You acknowledge your agreement to these terms when you purchase our start up kit.
______________________________________________________________________________________________________________________________
We're giving up our most valuable secrets and tips and that you can use to get started QUICKLY & on a SHOESTRING budget just like we did.
Will it be easy?
NO. It will be a challenge. An exciting challenge with investment of money, time, energy and passion.
THIS IS NOT FOR EVERYONE
THIS IS NOT A GET RICH QUICK SCHEME LIKE ONE OF THOSE "REAL ESTATE TYPE PROGRAMS"
THE VIDEOS AND CD'S WE PROVIDE ARE NOT SLICK, HOLLYWOOD PRODUCED VIDEOS.
SORRY, HOLLYWOOD SPECIAL EFFECTS OR FANCY PACKAGING.
JUST THE MEAT & POTATOES OF THE ORIGINAL HOT DOG BUSINESS THAT WE CREATED AND HAD GREAT SUCCESS WITH.
______________________________________________
Do you have what it takes to succeed in a business of your own?
I don't know what is in your heart. Only you do.
I DO know that the info we will be sharing with you will possibly save you HUNDREDS of hours of trial and error and THOUSANDS of dollars in costly mistakes.
___________________________________________________________
*WE RESERVE THE RIGHT TO REFUSE SALE TO ANYONE FOR ANY REASON AT OUR DISCRETION.
*WE WILL NOT SELL RIGHTS TO ANYONE WITHIN 100 MILES FROM OUR SHOP.
*WE WILL LIMIT SALES OF LICENSING OPPORTUNITY TO A VERY FEW WHO ACT QUICKLY.
WE WANT ONLY THOSE SERIOUS ABOUT GETTING THEIR BUTTS MOVING AND GETTING THEIR BUSINESS UP AND RUNNING AND BOOMING!
________________________________________________________________________
Many people are drawn to buying a Hot Dog cart because they really like the idea of being their own boss ... not having to answer to anyone.
So they get their hot dog cart and do things THEIR WAY ... like opening for business any time they want ... changing hours everyday and perhaps not even opening at all if they don't FEEL like it.
Some make handmade signs out of paper plates and cardboard boxes because it is cheap and convenient ... but does it look good? Does it look professional?
Or they decide on their own DRESS CODE like dirty sweat pants, tank top T-shirt and flip flops because, Hey...they are the BOSS and they can dress however they like.
However, when you get down to it the customer is the ultimate boss and ...THEY will decide your level of failure or success.
WE REVEAL THE 5 KEYS TO GREAT SERVICE THAT ATTRACTS & KEEPS LOYAL CUSTOMERS
WE reveal the BIGGEST MISTAKE most beginners make when designing their sign. ( This mistake KILLS some businesses before they even get started)
We reveal the REAL secret to spending advertising dollars WISELY & EFFECTIVELY.
___________________________________
So how much will it cost to be a part of the AWESOME OPPORTUNITY.
Some have suggested that we charge $1,500.00 - $2,000.00 or more for this INCREDIBLE HOT DOG BUSINESS package.
This would actually be a great deal and we may sell for this price in the near future....
However, one of the reasons we put this package together was to help other people just starting out in the Hot Dog business. Those who have limited funds and want to maximize their efforts and potential right away.
So for the first few people ONLY we are offering an INCREDIBLE deal to jump into this INCREDIBLE HOT DOG BUSINESS.
We want to have several people achieve SUPER SUCCESS right away with this opportunity and share their success stories with us.
Originally $795.00 and unavailable for the past 2 years.
For a very limited time we are are releasing just 20 of these packages for-
$350.00
Order your NOW ... Get started RIGHT AWAY.
FREE SHIPPING in the continental USA Allow 10 days for handling.
One of the toughest challenges in starting a new business ( even a seemingly simple one like a Hot Dog Stand) is the feeling of being all alone with no one to talk to or ask questions or find some moral support.
Don't worry...you can rest assured that when you start your new venture you will get TONS of advice from "armchair quarterbacks'...friends...acquaintances...and "busybodies" who have NO real experience or knowledge but are so happy to tell you what you SHOULD do. What they would do. These people are dreamers. ... NOT DOERS.
However...
The first 5 people to jump in we will offer FREE online EMAIL SUPPORT.
We will answer your questions, offer support, tips, advice and cheer you on to help you ACHIEVE SUPER SUCCESS.
We are not in competition with each other. We want only people who are interested in competing with THEMSELVES to set goals and reach them and willing to help, support and inspire the other INCREDIBLE HOT DOG vendors.
ANY QUESTIONS?
Please email- [email protected]