MAGICIAN - HYPNOTIST - MENTALIST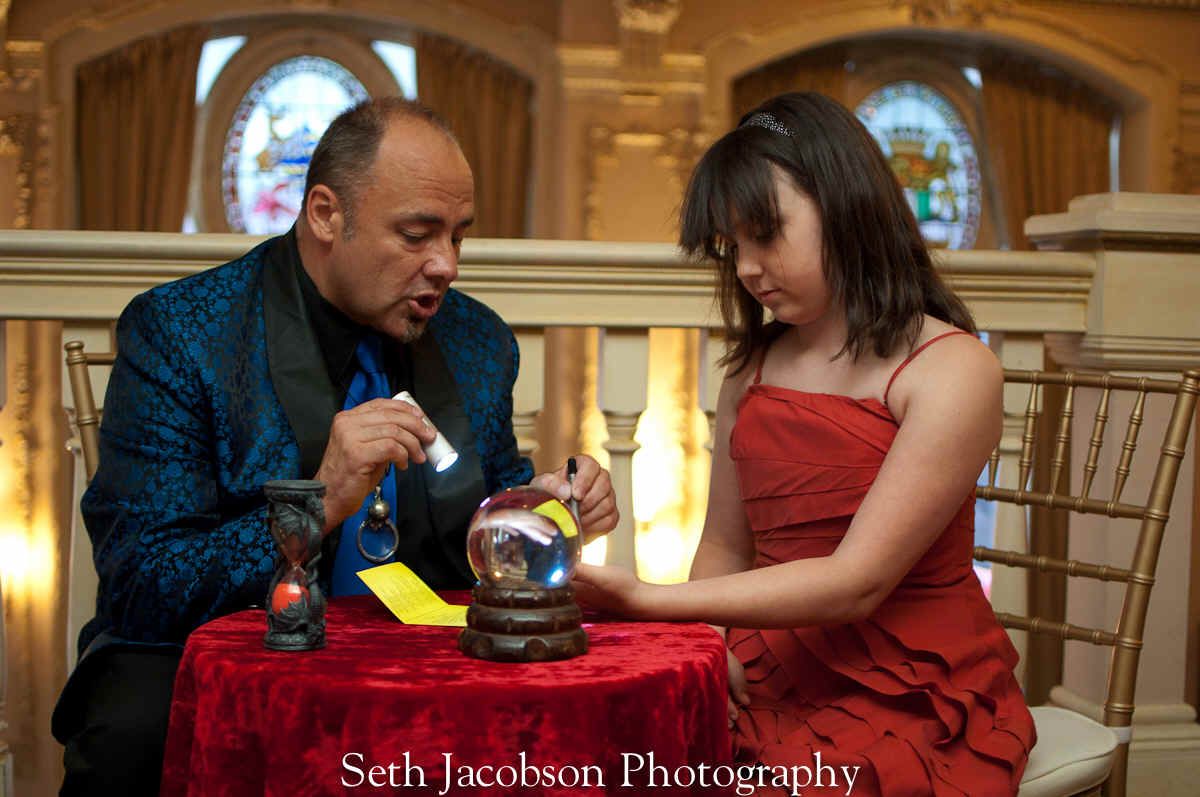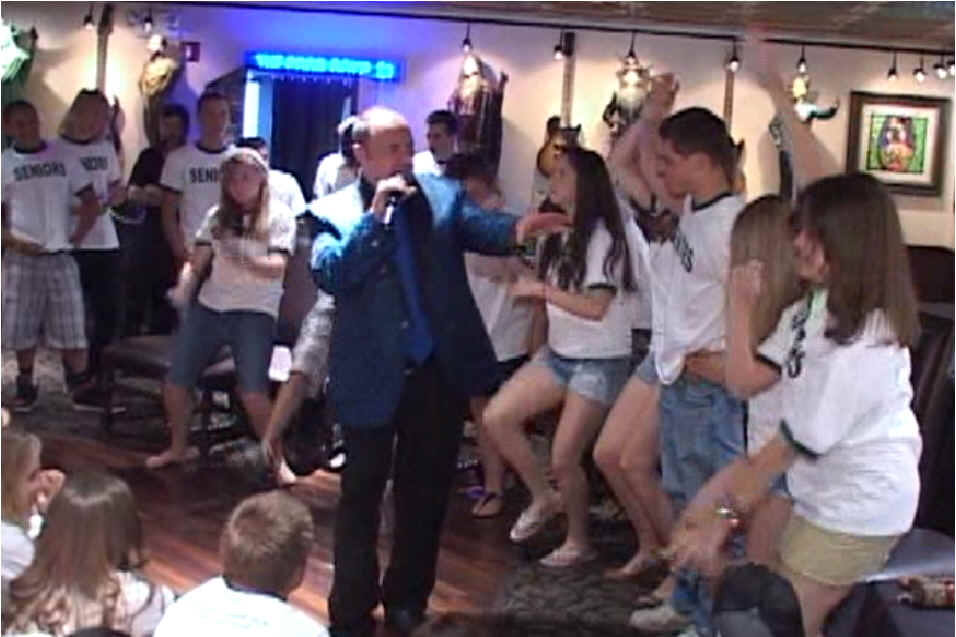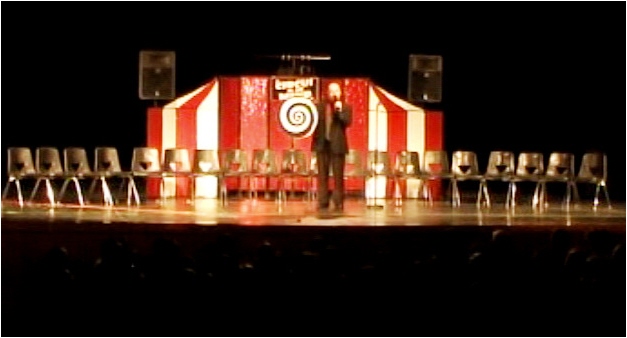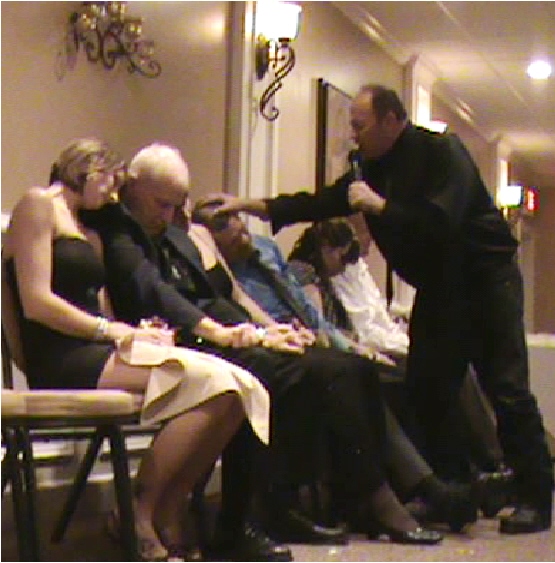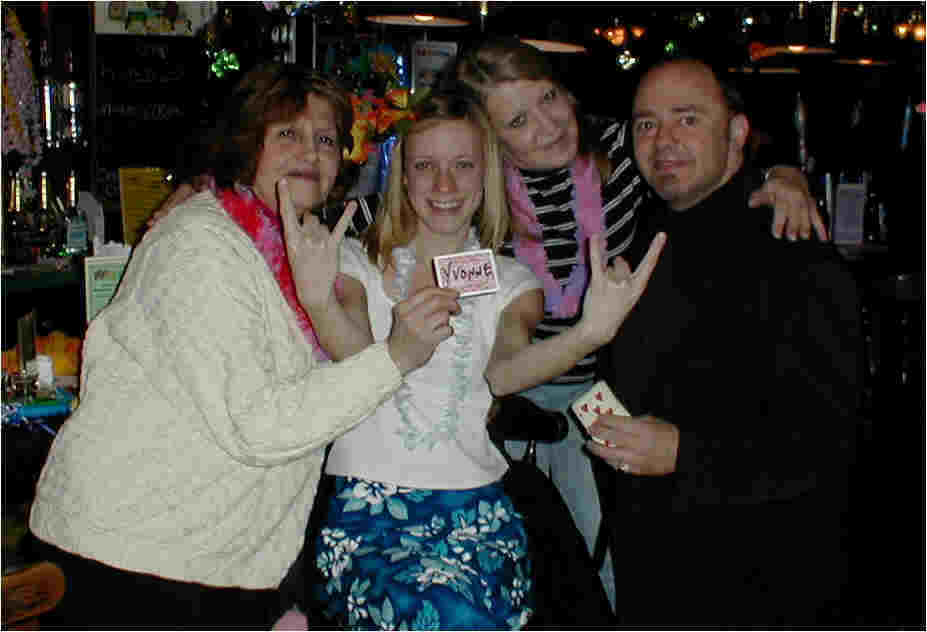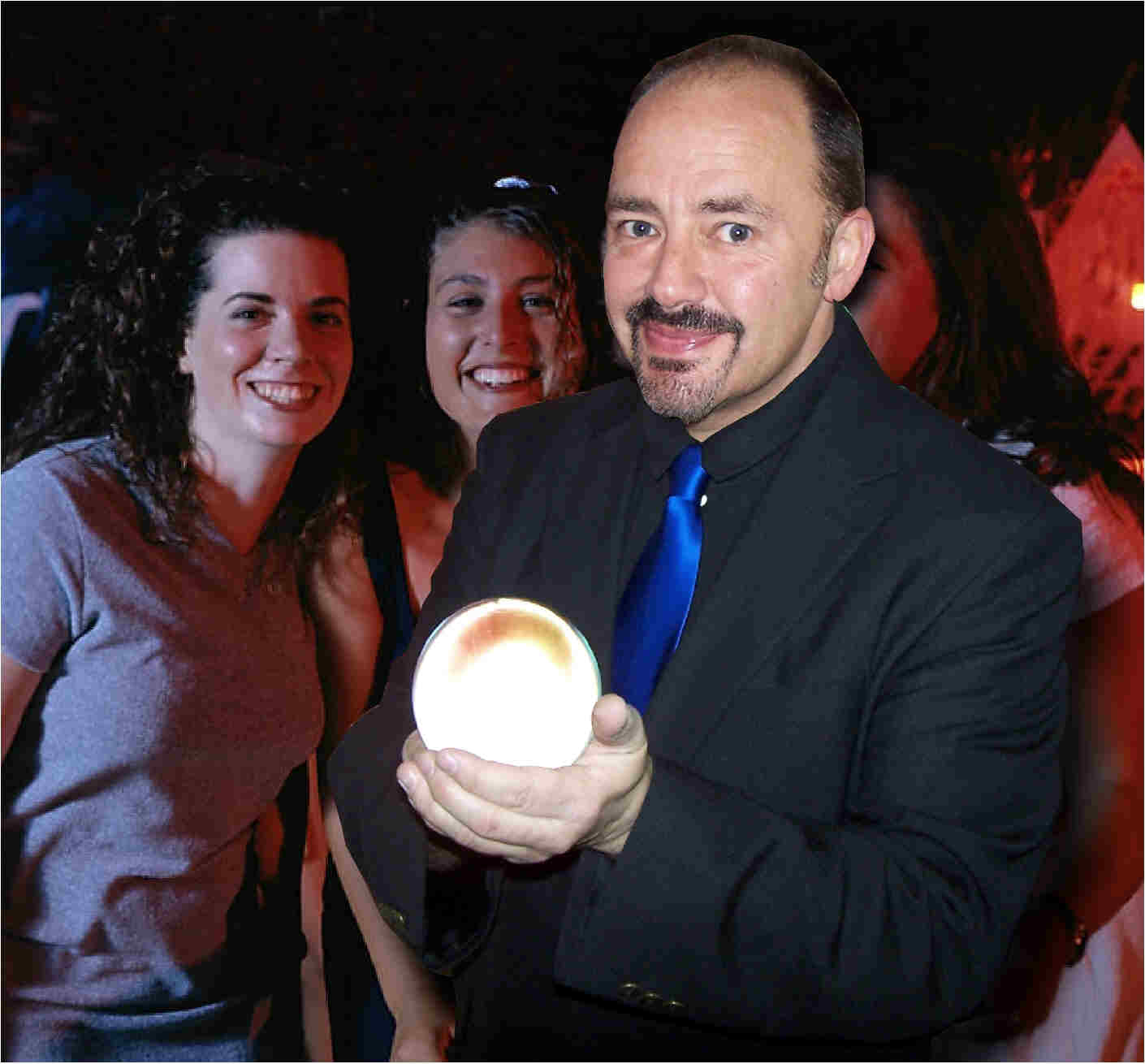 Booked regularly, YEAR ROUND, at the BEST Resorts, Festivals and Amusement Parks ... Why not have the best for YOUR EVENT!
ALL AGES ... ANY EVENT
Call (800) 644-7497 email- MagicStephen@yahoo.com
Hypno Show Demo Video

Variety Magic Shows
with Cool Stage sets and Unique Props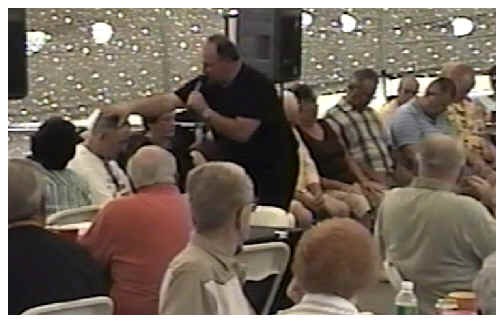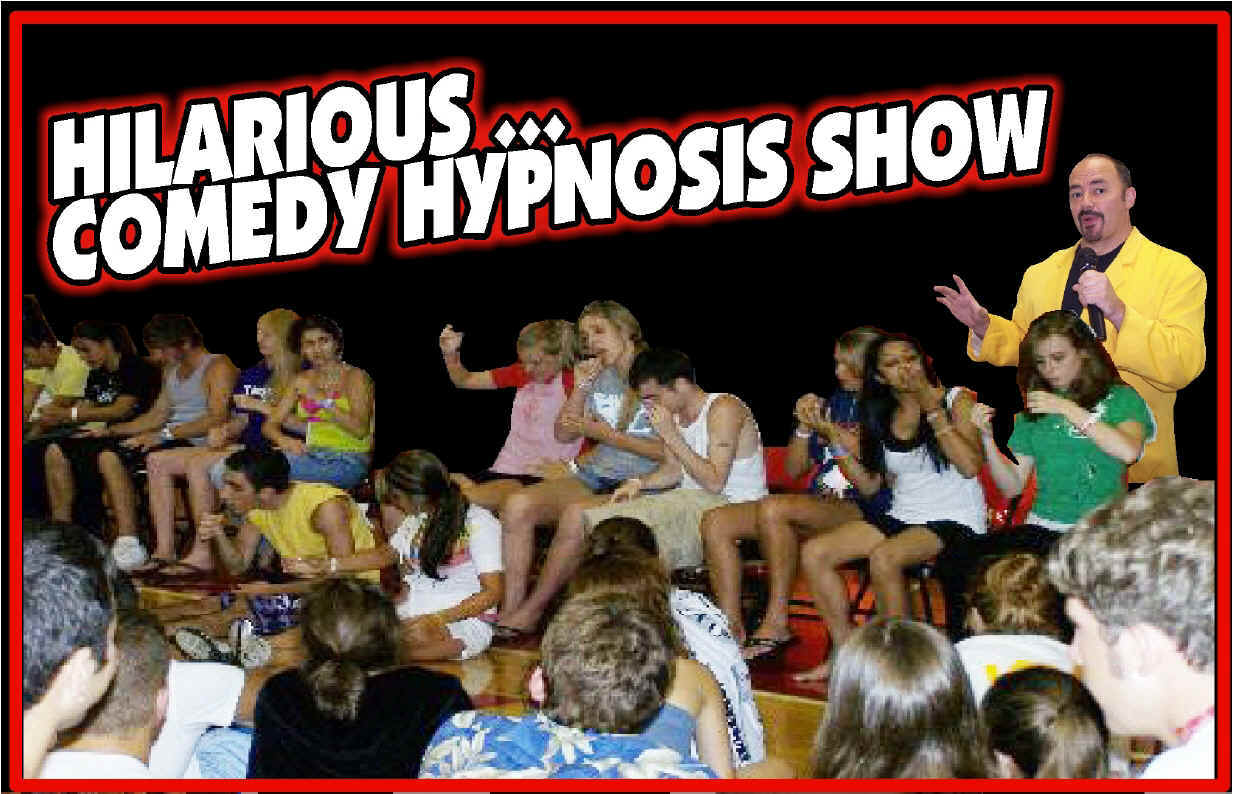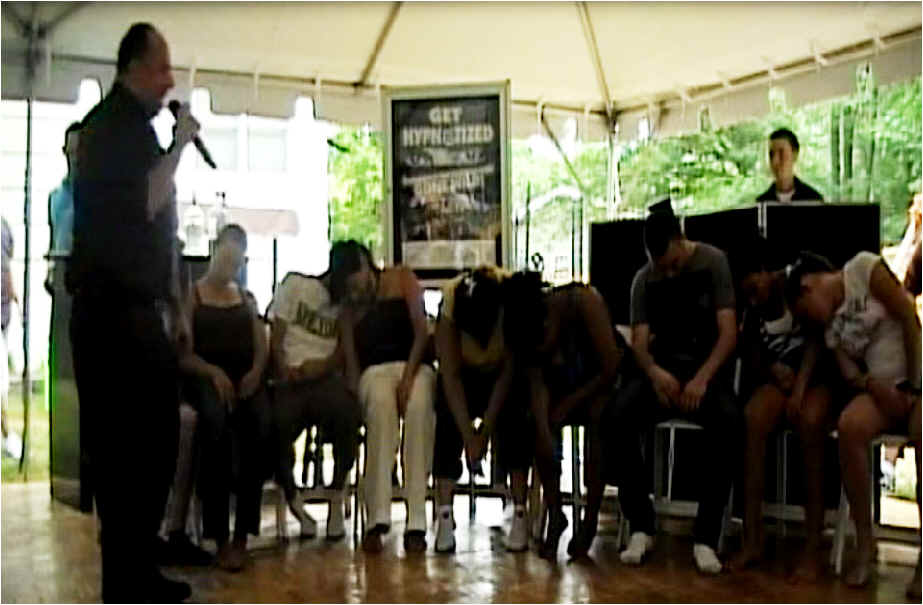 FROM TEENS TO SENIORS ... FUN ENTERTAINMENT FOR ALL AGES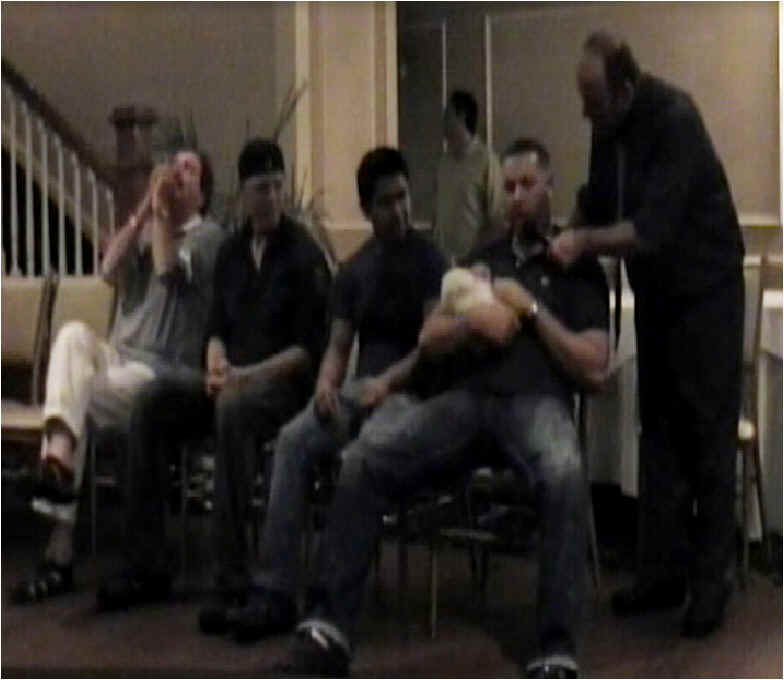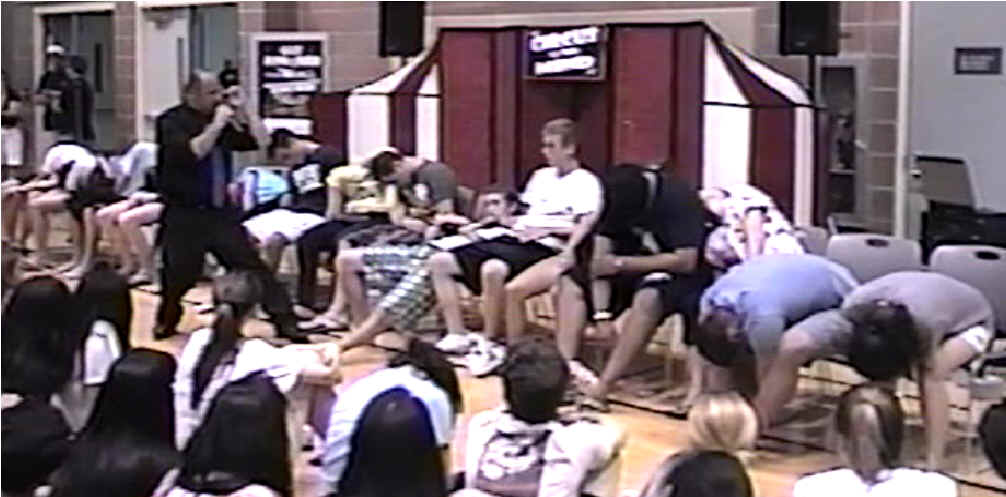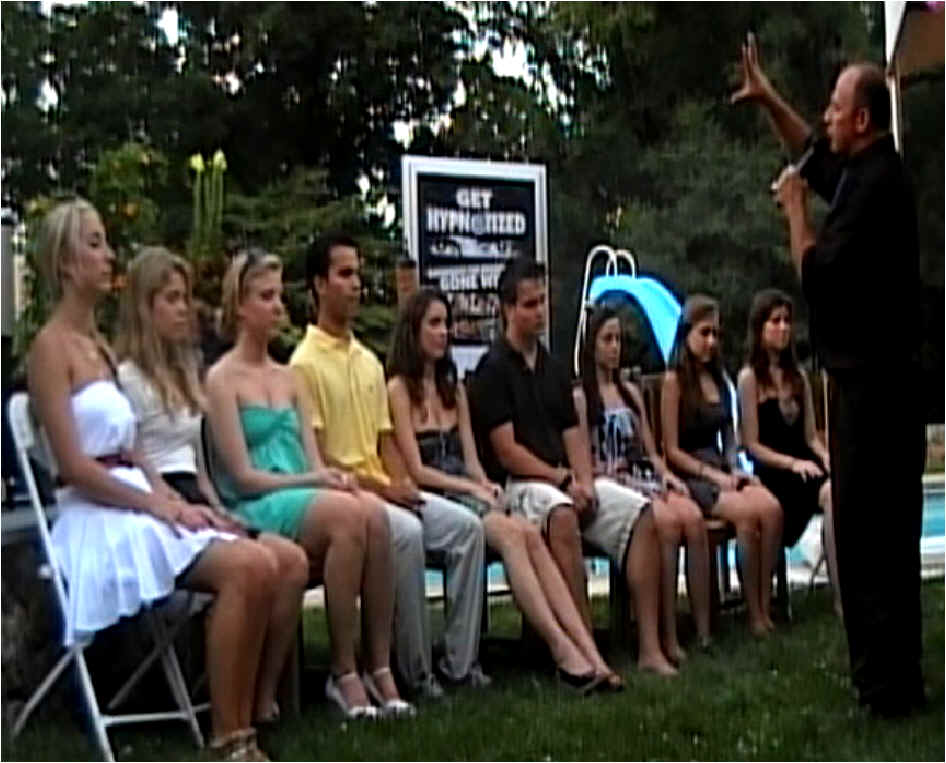 THEATER EVENT ... CORPORATE EVENT ... HIGH SCHOOL, UNIVERSITY ... BACKYARD PARTY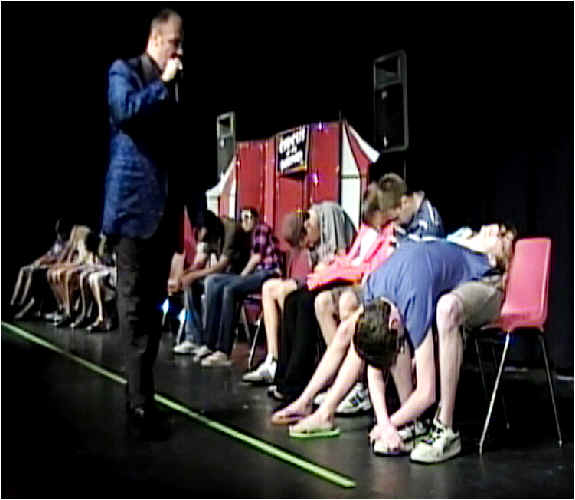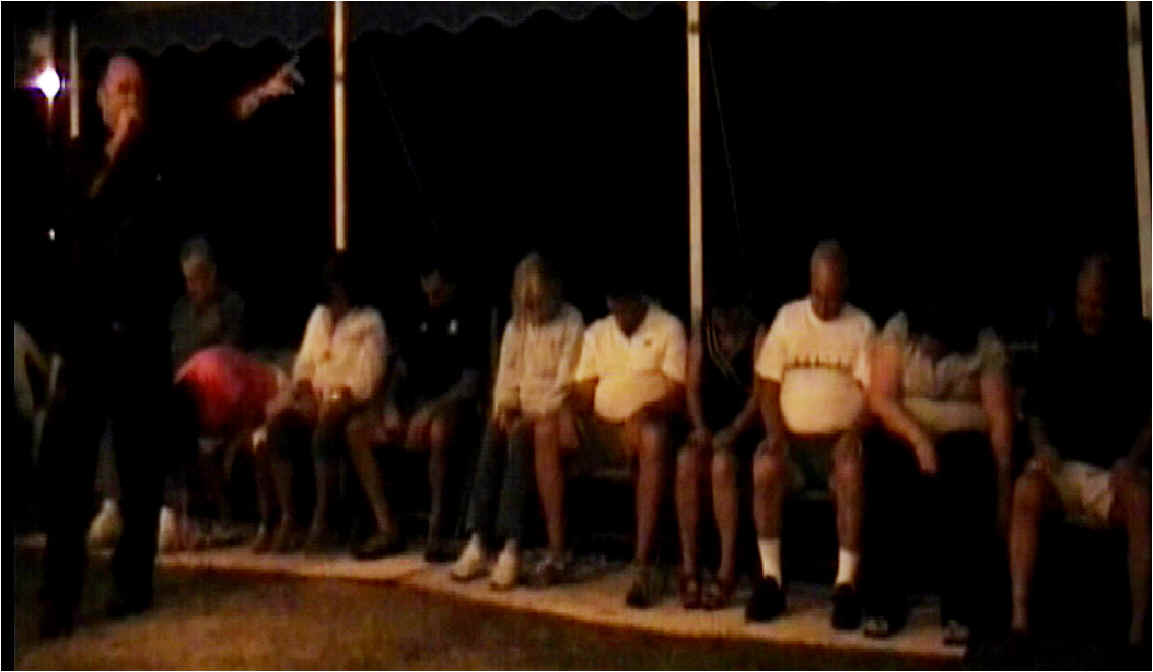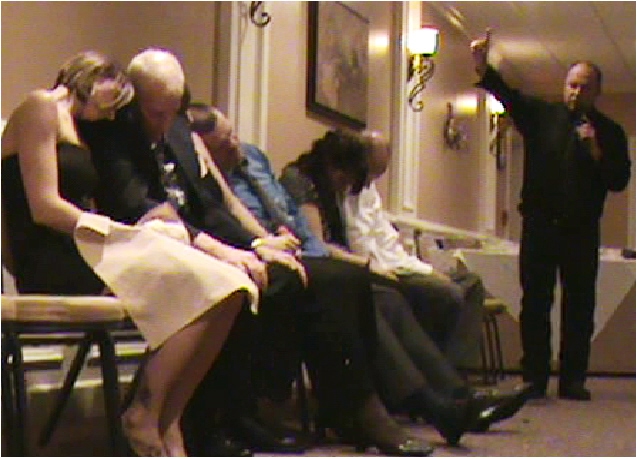 BACHELOR / BACHELORETTE PARTY ... SWEET 16 PARTY ... FUNDRAISER HYPNOTIST SHOW ... NIGHT CLUB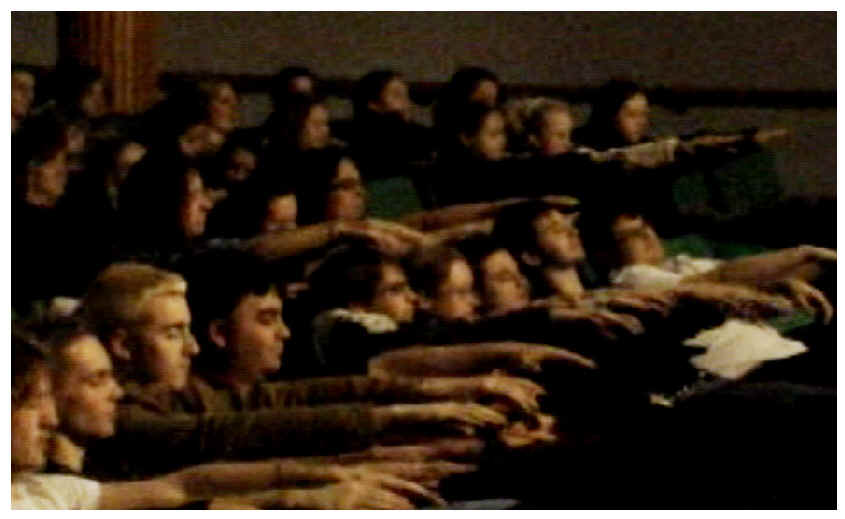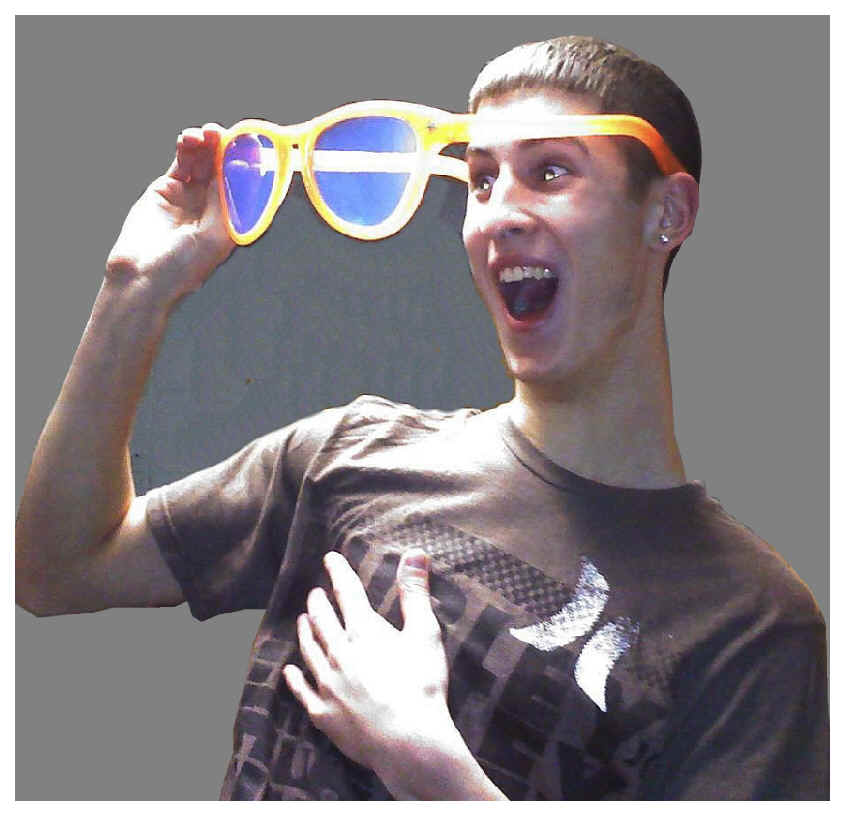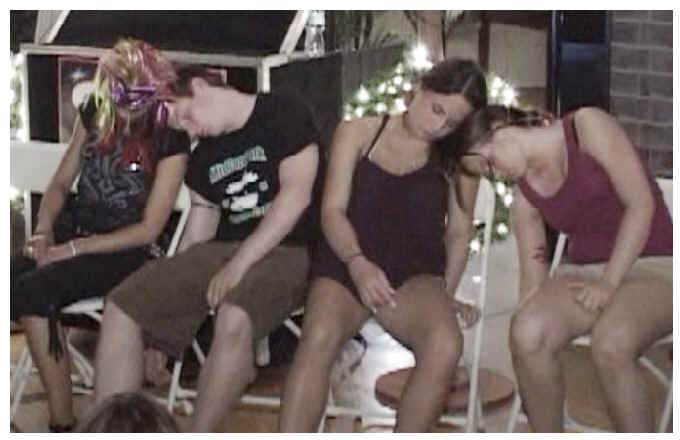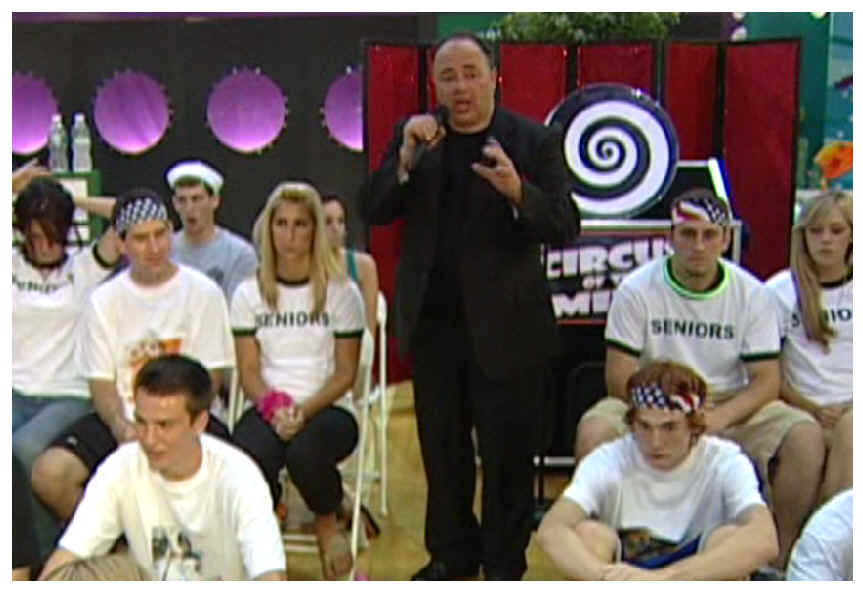 The Stephen Christopher Comedy Hypnosis Show "Circus Of The Mind"
This NJ Stage Hypnotist comes Fully equipped with lights, sound, props and crew
For a Guaranteed Evening of Good, Clean, Safe FUN!
PLUS... ASK ABOUT- 2 Free Bonuses that NO ONE ELSE offers!
Call (800) 644-7497 email- MagicStephen@yahoo.com

*RESERVE YOUR DATE AND I'LL IMMEDIATELY SEND POSTERS TO PROMOTE THE EVENT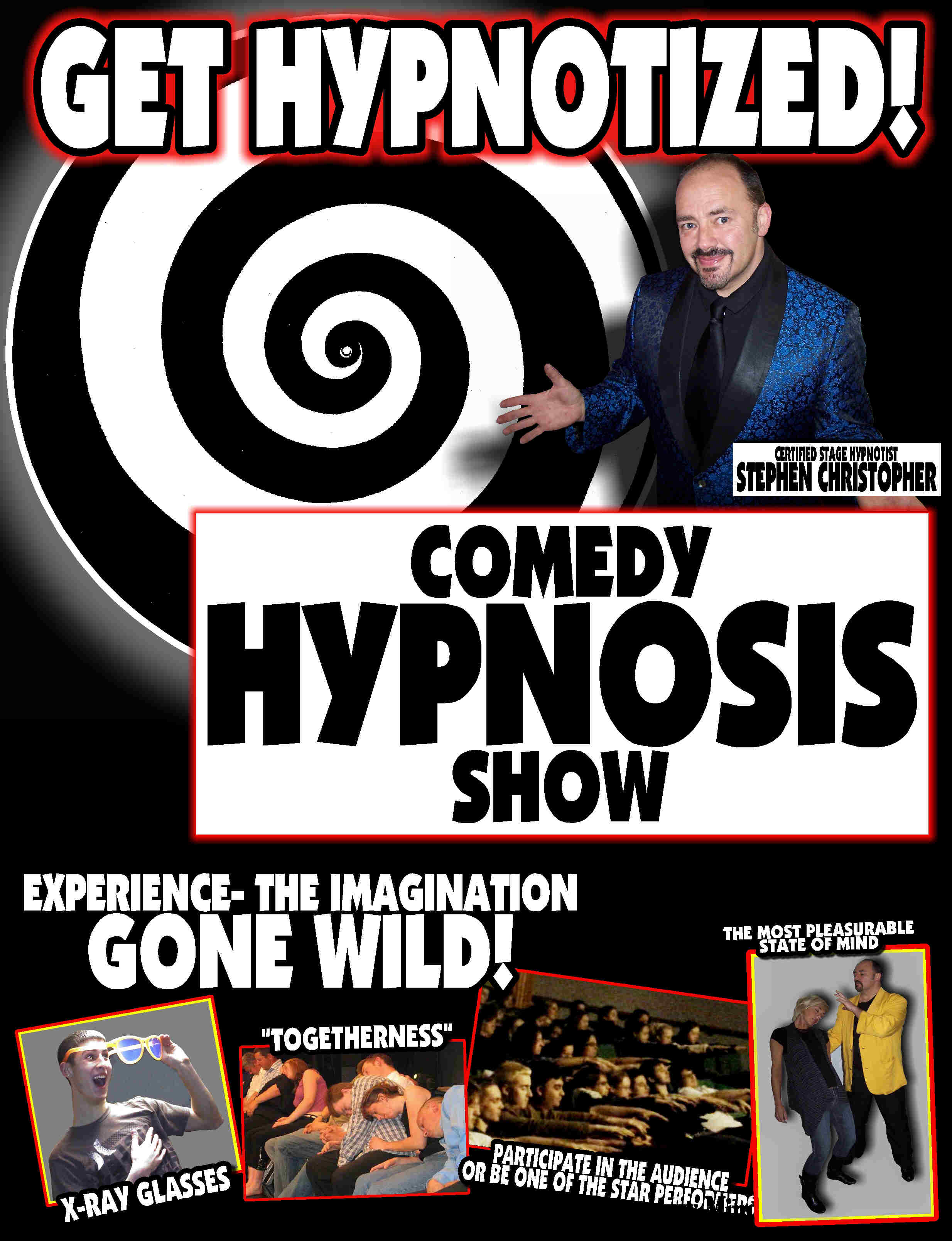 Call (800) 644-7497 email- MagicStephen@yahoo.com
Here are just SOME past satisfied clients and venue's ( Many, Many, more testimonials on file )...
All contents of this site copyright- 2000, 2001, 2002, 2003, 2004, 2005, 2006, 2007, 2008, 2009, 2010, 2011, 2012...
HYPNOTIST - MENTALIST - MAGICIAN
Stephen Christopher
AVAILABLE NATIONWIDE FOR YOUR EVENT
CONGRATULATIONS! ... You've found some of the best, most fun, magical entertainment available.
Stephen will be performing in the legendary Denny More's "HYPNOSTERIA" .... 12th year running at Six Flags- Great Adventure in Jackson, New Jersey.
"FROM A SMALL HOUSE PARTY TO A PACKED AUDITORIUM ... STEPHEN CHRISTOPHER WILL ADD MANY MAGICAL MEMORIES...
WITH HIS HIP, WITTY, WISE-CRACKING HUMOR AND WONDER-FILLED ILLUSIONS, LIVE ANIMALS AND
FUN AUDIENCE PARTICIPATION"
Call (800) 644-7497 (201) 378-7363
email- MagicStephen@yahoo.com
PLEASE CLICK THE BUTTONS BELOW TO EXPLORE OUR
WEB PAGES & AWESOME VARIETY OF ENTERTAINMENT FOR
ALL AGES ... ANY EVENT ... EVERY BUDGET

ADULT / TEEN SHOWS

FAMILY SHOWS

KIDS SHOWS

PLEASE USE THE MENU TO THE LEFT TO HELP FIND THE RIGHT ENTERTAINMENT FOR YOUR EVENT

"The Poconos Magician"
A BIG HIT year after year at... Pocono Balloon Festival ... Garlic Festival ... Celtic Festival
PLUS Warwick, NY "APPLEFEST" ...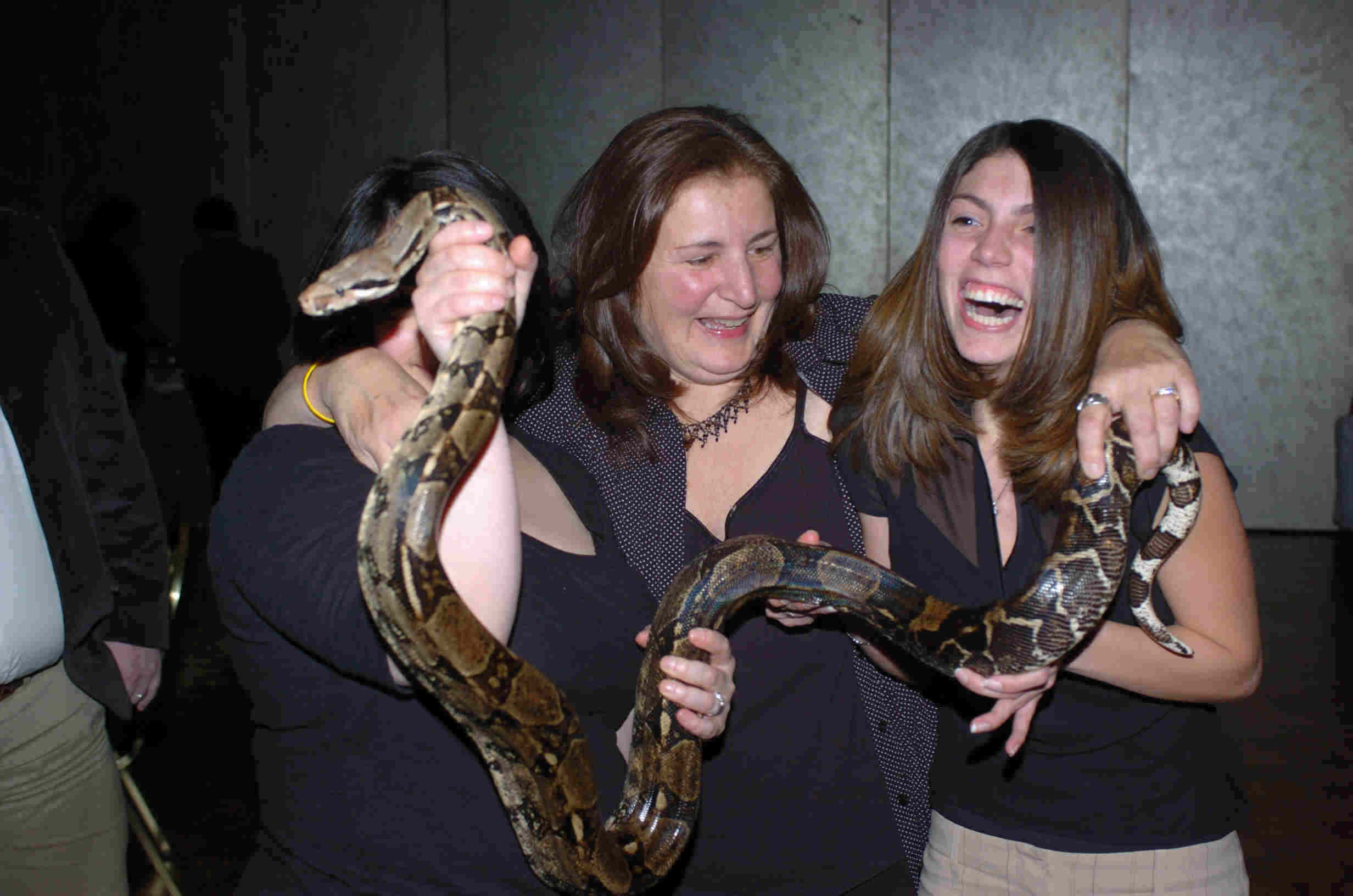 MAKING MAGICAL, MILLION-DOLLAR MEMORIES!
A show for every venue and every budget!

BOOK THE MOST UNIQUE ACT IN THE NORTHEAST...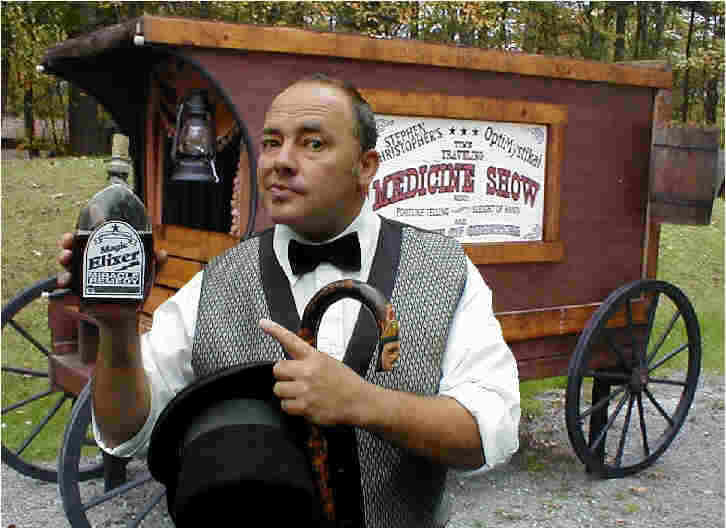 STEPHEN CHRISTOPHER'S...
"OptiMystikal"
Time-traveling ...MEDICINE SHOW!
and ... MUSEUM OF ODDITIES
*Available for Fairs, Festivals, Events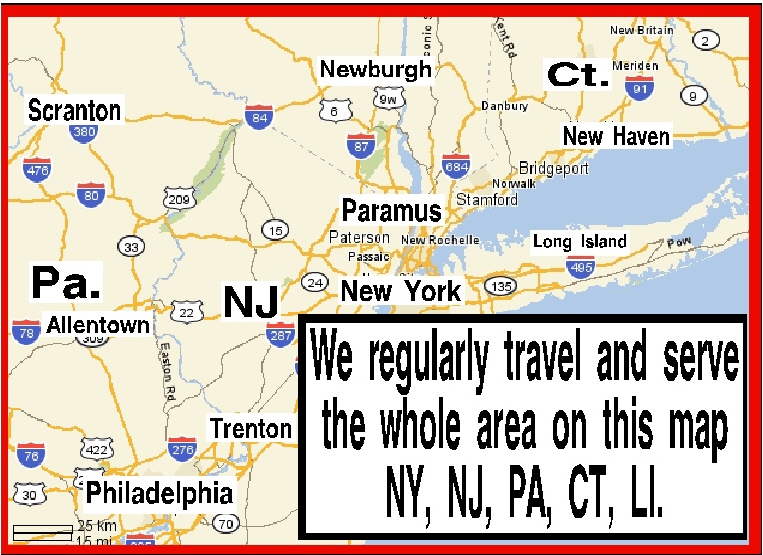 Start losing weight NOW with a Hypnosis Home Party
of course, Right In Your Own Home

Here are just SOME past satisfied clients and venue's ( Many, Many, more testimonials on file )...

100% SATISFACTION GUARANTEED !!!
READ WHAT OTHERS HAVE TO SAY...

"Absolutely fantastic" ... "you COMPLETELY FREAKED US OUT " ... "I saw your show a few weeks ago at "UP-A-CREEK" and told my friends they had to come with me to "the hotel" tonight to check it out "... carol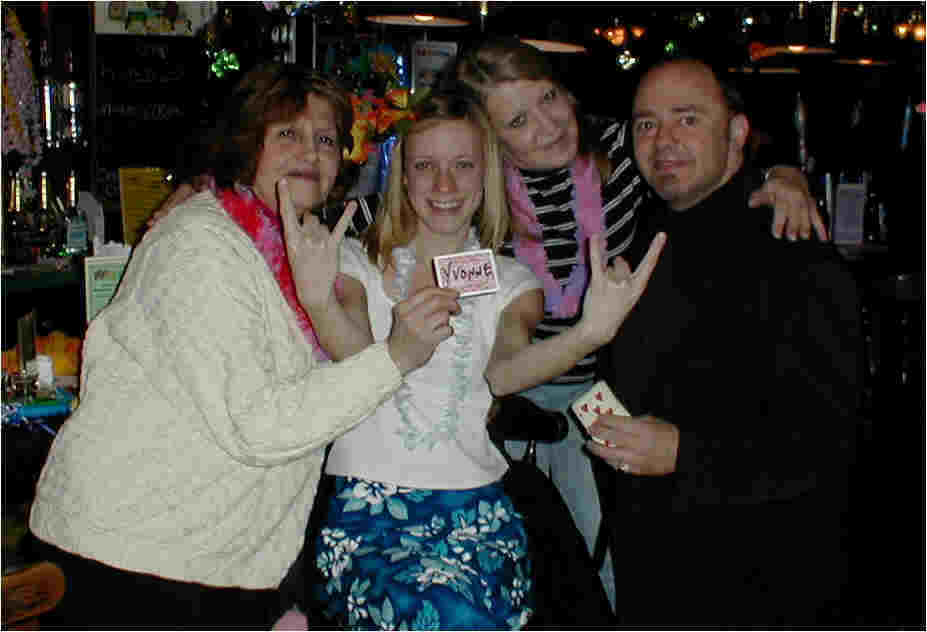 Stephen with Yvonne, Christina and Carol after a performance of "HEAD TRIP" at
"THE HOTEL" in Newfoundland, Pa. (one of the Poconos BEST spots for dining and good times)

"AFTER A GREAT RESPONSE LAST YEAR FROM OUR GUESTS, WE BOOKED STEPHEN'S ACT IN OUR LOUNGE ON SATURDAY EVENINGS FOR THE ENTIRE SUMMER" ...
..."I HIGHLY RECOMMEND STEPHEN CHRISTOPHER AND HIS MAGICAL ENTERTAINMENT"
ROBERT C. DANIELS -MGR. - "CHESTNUT GROVE RESORT"( POCONOS #1 "FAMILY" RESORT)
SWIFTWATER, PA..

"OUTSTANDING" ..."OUR CUSTOMER COUNT HAS BEEN RISING DIRECTLY DUE TO HIS MAGICAL TALENT"...
..."I COMPLETELY RECOMMEND MR. STEPHEN CHRISTOPHER ENTHUSIASTICALLY!"
CRAIG EHRHARDT - EHRHARDT'S WATERFRONT RESORT
LAKE WALLENPAUPACK, PA.

GREAT SHOW!!! ... AND STEPHEN REALLY PUTS IN THE EXTRA EFFORT TO MAKE SURE THAT IT IS A SUCCESSFUL EVENT! EVERYTHING FROM THE PROMOTIONAL MATERIAL TO THE PERSONAL ATTENTION PAID TO OUR GUESTS!...FANTASTIC!
BIG BEAR SKI RESORT & LODGE AT MASTHOPE, PA.

"EVERYONE LOVED THE SHOW" ..."WONDERFUL" ... "THE PLAYFUL STORYLINE MADE IT MOST ENJOYABLE...FUN & EXCITING" " ... "IT WAS A GREAT SUCCESS" ..."WE WOULD LOVE TO BOOK ANOTHER SHOW FOR NEXT SEASON"
ROBIN DUTCHER - ADIRONDACK GIRL SCOUT COUNCIL LEADER
ROCK CREEK, N.Y.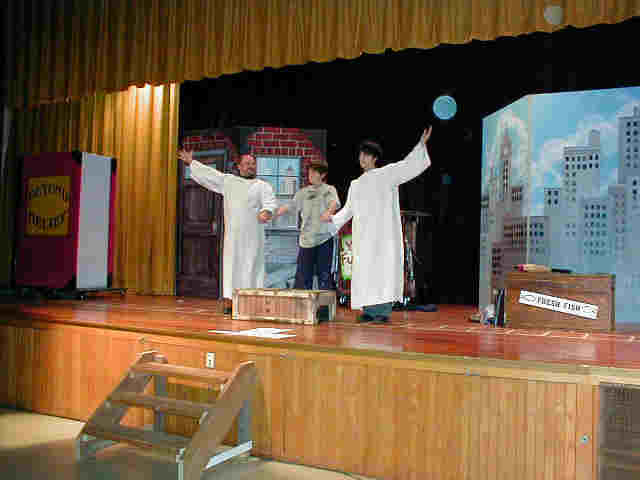 MAGICAL SURGERY ILLUSION...( This photo shows the moment right after Chris is magically divided into 3 pieces on the "streets of the city" and is returned without harm. Audiences LOVE our exclusive,... ORIGINAL version of this stage- illusion. You will think you are watching special effects in a movie but it is LIVE...RIGHT BEFORE YOUR EYES! )

"Dear Stephen,
It was our tremendous pleasure to have you. You were GREAT!!
You held a very large crowd of mixed ages with your incredible magic and humor and everyone loved you.
I especially appreciate you staying above and beyond, after the show to meet with the kids and speak with them.
I can't tell you how much I appreciate it, you are a real class act and we will for sure have you again."
Rabbi Ephraim Simon ... Teaneck, NJ

Thank you Stephen for all the entertaining shows you put on for the kids on Friday.
I believe your shows made a potentially bad day into a great one for the kids.
I liked the way you varied the shows for all the classes and brought different animals for each.
I especially liked the way you included special messages to the children in each of the acts.
The parents also loved your show and the set too.
Would love to have you back in June with your Stage-Illusion show.
Allen Lee, Little Falls, NJ School


Steve, Thanks again for the fantastic show you performed
at the Cub Scout Pack 380 Blue and Gold Banquet in April 2006.
Since then we have had at least a dozen separate families tell us what a great job
you did performing for roughly fifty grade school age children.
Not only did you kept them laughing, you also did a fantastic job involving them in the show!
Thank you for a highly original and very entertaining show!
We look forward to having you back again soon!
David Sax Cubmaster - Pack 380 Newtown, PA

"THANK YOU FOR A GREAT EVENING" ... " YOUR SHOW HELPED TO GET OUR SCHOLARSHIP FUND OFF TO A GOOD START" ...( OVER 500 TICKETS SOLD RAISING OVER $1,250.00) "WE WOULD LIKE TO DO THIS AGAIN NEXT YEAR"
MARSHA BIDOGLIO - MINISINK GIRL SCOUT UNIT
MINISINK VALLEY, N.Y.

WORKING WITH THE OPTIMYSTIKS WAS A PLEASURE" ... "WE MADE OVER $1,100.00 ON THE SHOW AND OVER $200.00 AT THE COINCIDING BAKE SALE" ... "THEY REALLY PUT ON A WONDERFUL SHOW" ... "IT WAS A GREAT FUNDRAISER" ...'WE'RE ALREADY PLANNING FOR NEXT YEARS SHOW""
LINDA MOSER - SARAH WELLS GIRL SCOUT COUNCIL TROOP LEADER
WARWICK, N.Y.

"THANK YOU STEPHEN...EACH GUEST WAS AMAZED & FASCINATED BY YOUR MAGICAL ENTERTAINMENT...THE "MAGICAL NIGHT" HEART GALA WAS A GREAT SUCCESS RAISING $33,000"
SHERRY TILSTRA - DIR..OF CORP. RELATIONS GALA - AMERICAN HEART ASSOCIATION
MIDDLETOWN, N.Y.

"THIS WAS A REAL SUCCESS...YOU AND YOUR FAMILY WERE GREAT...IT TAKES A SPECIAL TALENT TO ENTERTAIN AN AUDIENCE FULL OF CHILDREN FOR ALMOST 2 HOURS"
( 3RD YEAR BOOKED )
JANET LAGUTTA - GARFIELD CATHOLIC ACADEMY
GARFIELD, N.J.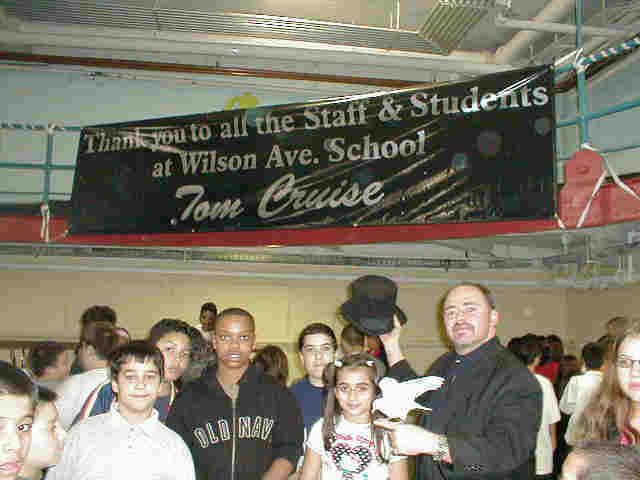 ( Stephen recently performed for over 900 students and teachers at Wilson Ave. School in Newark, NJ ... The performance was part of the "Thank You Party" given by Tom Cruise and Paramount Pictures to thank the school for the use of their grounds during the making of the upcoming film "WAR OF THE WORLDS" )

"THANK YOU FOR THE 'MAGICAL NIGHT' YOU GAVE US ... EACH ADULT AND CHILD IS STILL TALKING ABOUT IT ... ABSOLUTELY INCREDIBLE ! ... YOU LIT UP OUR NIGHT WITH WONDER AND EXCITEMENT ... I'M SURE WE'LL SEE YOU AGAIN AT ST. VINCENT'S"
BETTY LAWSON - P.T.A. ST. VINCENT'S SCHOOL
HONESDALE, PA..

"LOVED THE SHOW ... YOU GUYS WERE GREAT...YOUR ACT IS VERY ORIGINAL, CREATIVE AND FULL OF VIRTUE"
FATHER DAVID AND STAFF - MOST SACRED HEART CHURCH
PORT JERVIS, N.Y.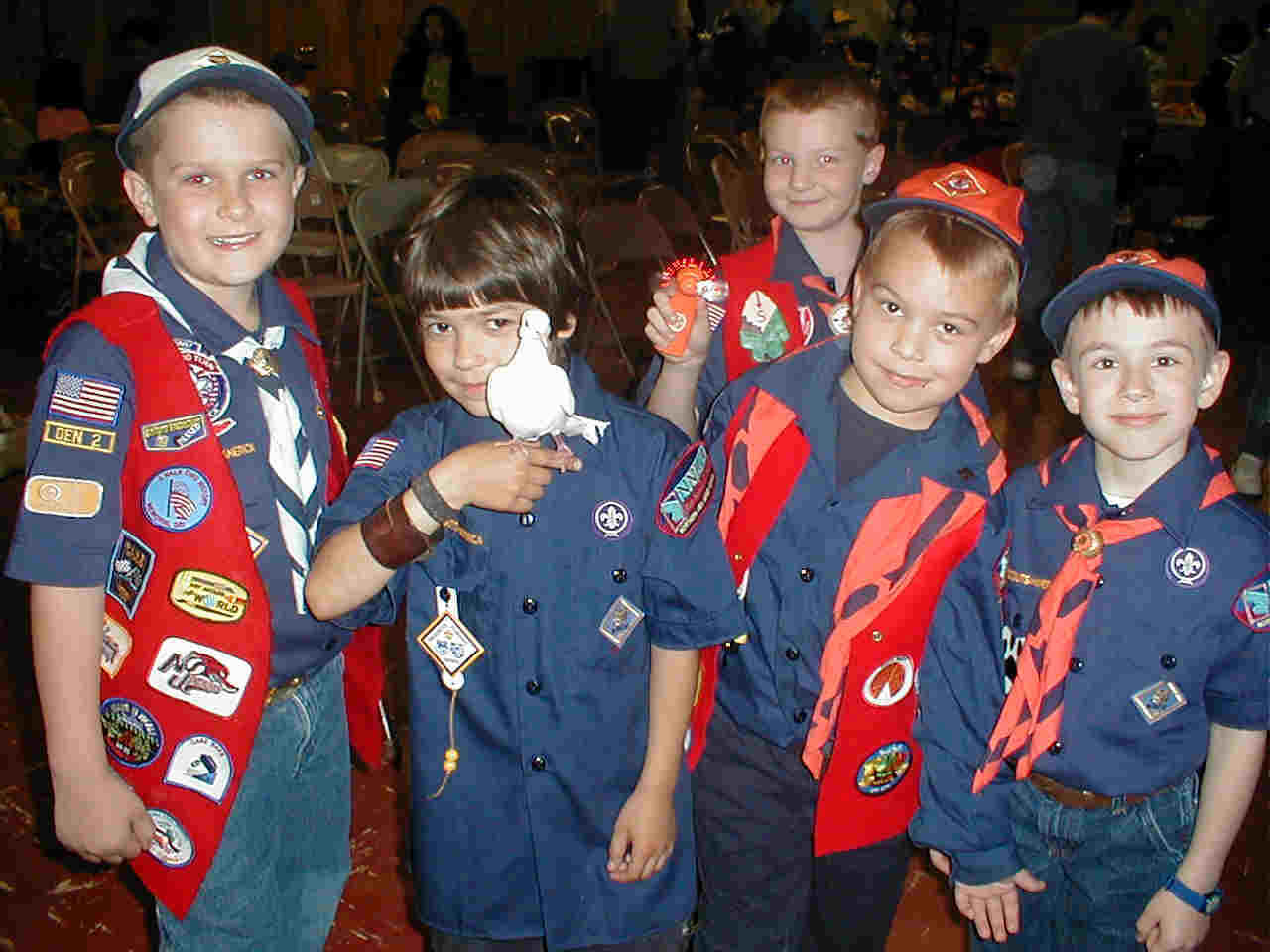 "EVERYONE HAD A GREAT TIME ... LOVED THE SNAKE ... THIS WAS DEFINITELY SOMETHING DIFFERENT FOR OUR COMMUNITY"
KATHY MCMICHAEL - P.T.A. ROSCOE ELEMENTARY
ROSCOE, N.Y.

"FUNNY , MYSTIFYING, ENTERTAINING ... YOU GUYS HAVE A GREAT SHOW ...THE ENTIRE AUDIENCE AT OUR COMPANY PICNIC ENJOYED YOUR ACT"
FRED LIPE - LOMBARDO & LIPE CONTRACTORS
MARSHALLS CREEK, PA.

"THE KIDS UNANIMOUSLY SAID THAT YOUR MAGIC SHOW WAS WHAT THEY ENJOYED MOST AT SUMMER CAMP THIS YEAR"
LORI LEVIN - HOLLY CENTER
HACKENSACK, N.J.

"WE ALWAYS RECEIVE RAVE REVIEWS FROM OUR GUESTS" ..."FAMILIES JUST LOVE YOUR SHOW '...
...HIGHLY RECOMMENDED !!"
SHAWNEE PLACE PLAY & WATER PARK
BUSHKILL, PA.
WHETHER IT'S A SMALL PARTY, A FORMAL AFFAIR, FESTIVAL, FUNDRAISER EVENT, RESTAURANT OR NIGHT CLUB
WE WILL PROVIDE YOU WITH OUTSTANDING, AFFORDABLE, MAGICAL ENTERTAINMENT...GUARANTEED!!!
Best New Jersey children's entertainment. The best new jersey Kid's entertainment.
All contents of this website copyright,
2000, 2001, 2002, 2003, 2004, 2005, 2006, 2007, 2008, 2009, 2010, 2011, 2012
www.OptiMystiks.com